An increase in the numbers of people seeking asylum in Ireland requires ways to deal with them and manage the application process.
The first meeting of the Association of Refugees of Ireland took place in Dublin on 23 June 1997. The association was set up by asylum seekers in Ireland to fight what they describe as a rising tide of hostility.
As the number of people seeking refugee status in Ireland has grown, the facilities set up to deal with them are unable to cope. 'Nationwide' meets some of the people who have successfully settled in Ireland as well as the views of people on the streets of Dublin.
Opinions from people on the streets of Dublin around the issue are mixed, some welcoming the diversity that refugees bring while others are suspicious of their motivations for coming to Ireland.
If we have room for them, take them because they are hungry and afraid.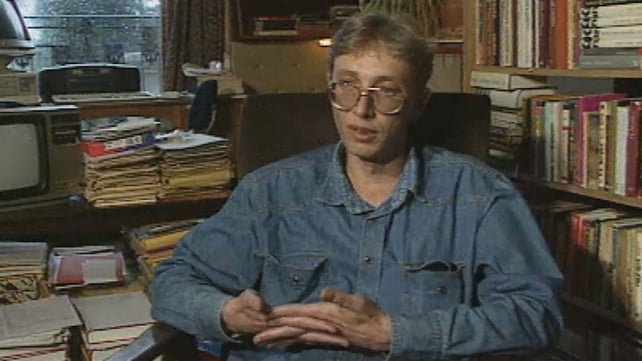 Drazan Nozinic
Drazan Nozinic fled Yugoslavia for Ireland during the civil war in December 1992 and got refugee status in 1993 and Irish citizenship in March 1996. Currently living in a bedsit in Rathmines, he is living on the dole but hopes to set up his own translation agency. Drazan describes what life is like for a refugee in Ireland and the sense of alienation that can go with it.
You are completely cut off in a way. The only people you communicate with are people in the Refugee Council and people in the Ministry of Justice, and then you just wait. Once you get the decision, it gets even worse because there are no people. You don't need the Refugee Council any more. So you have to rebuild your life.
While Drazan has had a good experience in Ireland, he says it is not the same for everyone, especially if you are black. Drazan also comments on the perception that asylum seekers are not genuine refugees, but rather economic migrants, an accusation which confronts many of those seeking asylum.
I didn't leave two flats and two houses and two cars that my family had, and all that to come over and live on the social welfare. I had a job, I had a life.
Under the 1996 Refugee Act, a refugee is defined as a person who has a fear of being persecuted in his or her own country. Such a person can make an application to the government seeking refugee status. Once investigated, the person can then be officially declared a refugee, allowing them to live and work in Ireland.
Fianna Fáil TD Eoin Ryan says there is a need to put system in place to allow authorities to recognise genuine refugees. Sr Stanislaus Kennedy from Focus Ireland says that Ireland has an obligation to find the resources to make sure that these people can live with dignity.
A 'Nationwide' report broadcast on 23 June 1997. The reporter is Tom Kelly.