The family of Robbie Keane's watch the Republic of Ireland centre forward take part in the World Cup Finals.
The 2002 FIFA World Cup is underway in South Korea and Japan. However, Robbie Keane's family have decided not to travel, opting instead to watch the games in the home of the Irish star's sister Natasha in Glenshane Grove in Tallaght, County Dublin.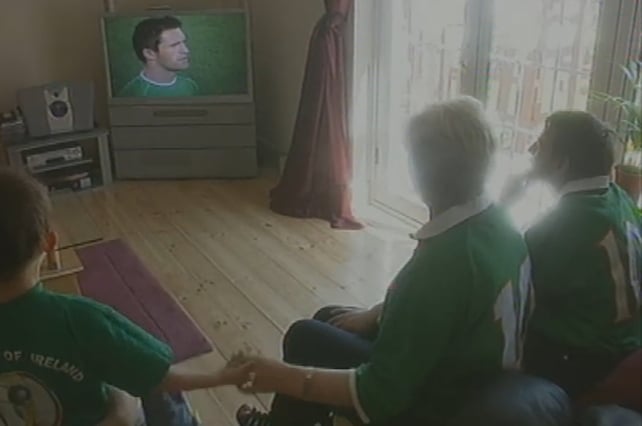 Tensions in Natasha's sitting room are high as the family watch the Saudi Arabia vs Republic of Ireland group match taking place in the International Stadium Yokohama. In the seventh minute of the match, Robbie scores his second World Cup goal and on the streets of Glenshane Grove, young fans roar for their hero.
In the second half of the match, Gary Breen and Damien Duff both score, making it a victory for the Republic of Ireland. Then follows a mass exodus from the sitting rooms of Glenshane Grove as the celebrations spill out onto the street.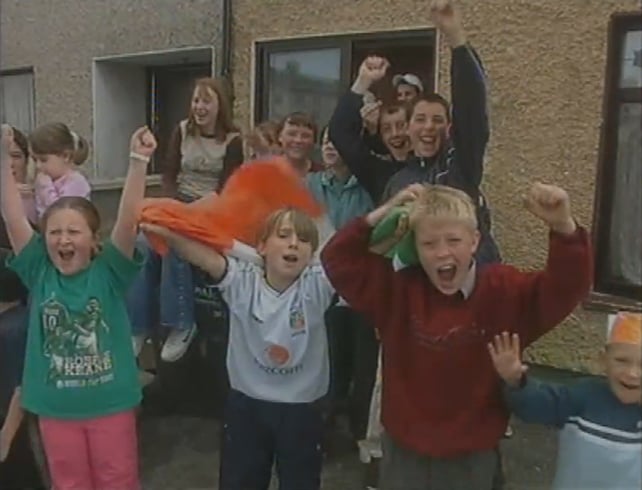 Robbie's parents Anne and Robbie Keane senior are extremely proud of their son.
We're delighted for Tallaght, we're delighted for Rob, his ambition was to play in the World Cup, and to score two goals, and two vital goals, it's brilliant.
His sister Natasha is also delighted at Robbie's success which has a wider impact as
It's great for the community as well, for Glenshane.
Robbie's favourite auntie Vivienne Quinn adds that she is
Very proud of him, he's a wonderful lad.
Robbie Keane was the Republic of Ireland's top scorer at the 2002 FIFA World Cup. He scored three goals and the team reached the last 16.
An RTÉ News report broadcast on 11 June 2002. The reporter is Teresa Mannion.