Taoiseach Bertie Ahern switches on a giant boring machine called 'Grainne' to begin excavation works on the Dublin Port Tunnel.
The Port Tunnel will run from Whitehall to Fairview forming a two-lane motorway, up to 23 metres underground, and connecting the M50 to Dublin Port. It is intended that the tunnel will put an end to the traffic gridlock in Dublin city.
According to Michael Phillips, Dublin City Engineer, the completed tunnel will take 10,000 trucks a day off the capital's congested roads. However, there is opposition from some local residents to the tunnel. Fintan Cassidy from the Marino Development Action Group, spoke to RTÉ News about his concerns saying
We're terrified that the houses are going to be damaged and there could be loss of life even.
Taoiseach Bertie Ahern defends the construction of the tunnel on environmental grounds and looks forward to a day when thousands of trucks are removed from the streets of Dublin.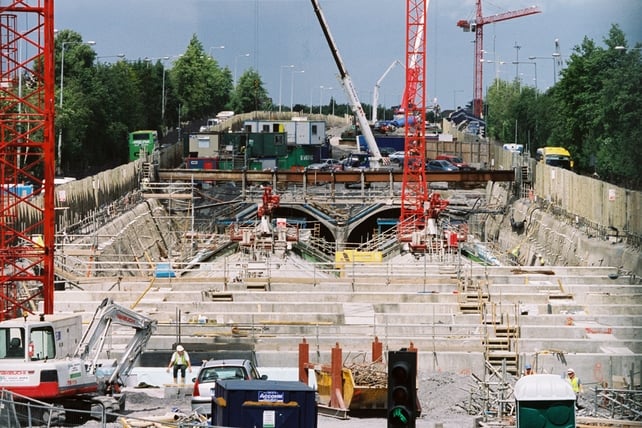 Dublin Port Tunnel under construction (2004)
The 5.6km long tunnel is designed to ease congestion in Dublin city. It is estimated that construction work will go on for 18 months, due for completion in early 2005. It is estimated that the project will cost around €450 million.
An RTÉ News report broadcast on 7 May 2002. The reporter is Bethan Kilfoil.