Eamonn Coghlan gave up his job in Ireland to return to the US to train and compete with the best and to pursue a career on the track. Hopes are high again for the Irish with the emergence of the young Dublin athlete.
The competitive nature of international athletics means that for many Irish athletes, the move abroad is inevitable. 'From Villanova and Ireland - Eamonn Coghlan' follows his career to date, and now places him as one of the world's best middle distance runners.
Eamonn Coghlan had spent four years at Villanova University on an athletics scholarship under the watchful eye of athletics coach Jumbo Elliot following in the footsteps of famous Irish athletes like Ronnie Delany, John Hartnett, and Donald Walsh. By 1976, Eamonn Coghlan had reached the top rank of the world's milers. One of the best times was 3 minutes 53.3, finishing third to Filbert Bayi of Tanzania who set a new world record in the same race. At the Montreal Olympics he was pipped for a medal finishing in fourth place.
Eamonn Coghlan then returned to Ireland and took up employment but just months later left the job to return to Villanova. Reporter Liam Nolan and producer Jim George travelled to America to make a documentary about a special Irish athlete 'From Villanova And Ireland - Eamonn Coghlan'.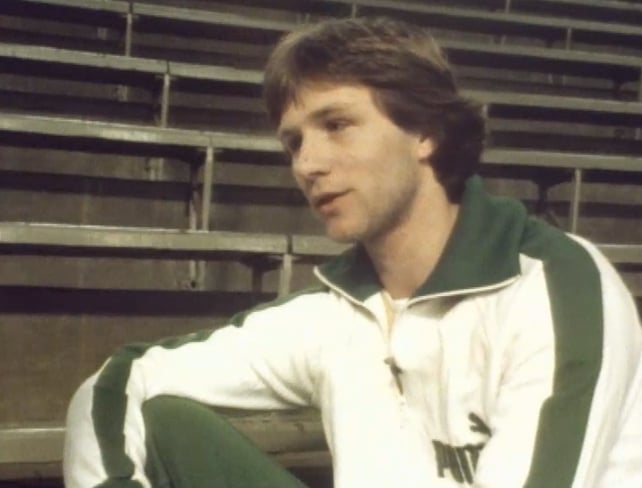 Eamonn Coghlan (1977)
In this excerpt from the programme, Liam Nolan catches up with Eamonn Coghlan ahead of his second competitive race since his return to the US. Since returning to the US his confidence is back and he feels in top shape. He describes the environment around the Villanova area as a place where
People are out to win, to improve themselves, to better themselves, which was built in to me for the four years I was here.
President of Villanova University Father Driscoll describes the long association between Villanova and Ireland and says of Eamonn,
Eamonn Coghlan is representative of a high type of person, of athlete, that Villanova is proud to have represent its name.
Father Driscoll also emphasises the importance of an academic education for athletes at Villanova.
We expect every athlete to measure up academically.
Track coach at Villanova Jumbo Elliot describes his constructive approach for developing athletes at Villanova. He is optimistic about Eamonn Coghlan's chances of winning at the next Olympics.
Eamonn goes on to win his race at the Spectrum Stadium in Philadelphia.
'From Villanova And Ireland - Eamonn Coghlan' was broadcast on 9 March 1977. The reporter is Liam Nolan.