Opinion is divided on the playing of the British national anthem before a rugby international at Croke Park, the site of the Bloody Sunday massacre of 1920.
For the first time ever the Six Nations rugby union clash between Ireland and England will take place at Croke Park, the home of the Gaelic Athletic Association (GAA) and Gaelic Games.
The usual venue for the match, Lansdowne Road, is being demolished to make way for a new stadium, so the game has been transferred to Croke Park, the only other major stadium in Dublin.
JJ Barrett the son of Joe Barrett, an All-Ireland-winner with Kerry in the 1930s, will be withdrawing his father's medal collection from the GAA museum in protest at the playing of 'God Save the Queen' on the Bloody Sunday site. Given the history at Croke Park, he says the words of the anthem are inappropriate and insensitive.
Tony Sinnott's father was a member of the Dublin football team which played against Tipperary in Croke Park during the fateful match in 1920 when members of the Auxiliary Division and Royal Irish Constabulary opened fire on the 5,000-strong crowd, killing 14 people and injuring numerous others. He has no problem with Croke Park being used as a rugby venue, but objects to the playing of 'God the Save the Queen'.
I think that's just adding fuel to the fire, as I said, the words, particularly in first verse I suppose are rather provocative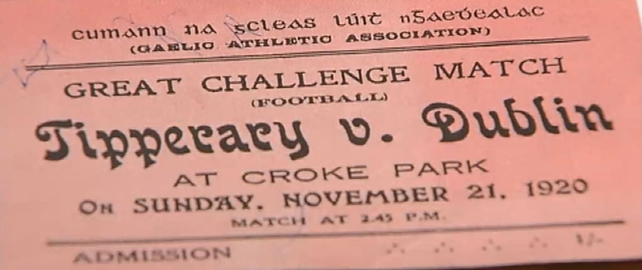 Member of the European Parliament (MEP) and Fianna Fáil politician Eoin Ryan disagrees
I think that we have to realise that we are an independent nation and we've got to get over these kind of problems that were in our past.
Supporters interviewed at the Parnell Park GAA stadium in Dublin also have mixed opinions on the subject. However the GAA say the playing of God the Save the Queen is a matter for the Irish Rugby Football Union.
An RTÉ News report broadcast on 18 February 2007. The reporter Bethan Kilfoil.