The GAA votes to open their doors to non gaelic games in certain circumstances.
The GAA Congress voted to temporarily lift the ban on rugby and soccer being played at Croke Park. The suspension of the organisation's Rule 42 was to facilitate the Ireland rugby team and the Republic of Ireland soccer team, giving them a venue while Lansdowne Road was redeveloped.
GAA President Sean Kelly announces the result of the ballot, declaring that the motion is passed. There are interviews with Tommy Keenoy, Roscommon delegate, Pat Darcy, Chairman of the Tyrone Board and John O'Donoghue, Minister for Sport.
Sean Kelly comments,
It's a very generous decision, I'm very proud of the association.
An RTÉ News report broadcast on 16 April 2005. The reporter is Tony O'Donoghue.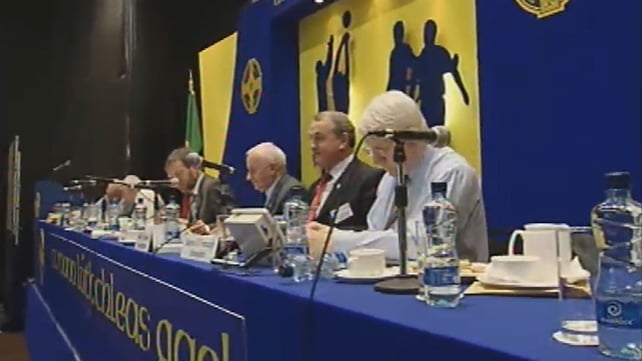 GAA Congress (2005)