A historic occasion for Irish sport, a rugby international between Ireland and England is played at the GAA headquarters Croke Park.
For the first time ever the Six Nations rugby union clash between Ireland and England takes place at Croke Park, the home of the Gaelic Athletic Association (GAA) and Gaelic Games. It was in Croke Park in 1920 that 14 civilians were killed by British forces while attending a Gaelic football match.
This was also the first time that the English National Anthem 'God Save the Queen' was sung at Croke Park. Lansdowne Road was the usual venue for rugby games in Dublin but was being demolished to make way for a new stadium.
The pre-match rituals included the singing of the national anthems of both sides, 'Amhrán na bhFiann' and 'God Save the Queen' as both squads psyched themselves up for what Colm Connolly described as "a pulsating encounter".
There was a hugely emotional atmosphere all around Croke Park this evening as the capacity crowd and the Ireland rugby squad combined for a rousing and full-blooded rendition of Amhrán na bhFiann. Moments earlier the England players and visitors were just as vocal in their performance of 'God Save the Queen'.
Johnny Wilkinson put England into an early lead with a penalty in the second minute. However, Ronan O'Gara steadied the score with three penalties putting Ireland ahead by 9 points to 3. Ireland were in fighting form with tries from Girvan Dempsey and David Wallace leaving them with a lead of 23 points to 3 at half time.
England fought back in the second half with a try by David Strettle. However, the Irish squad were determined and
It was another All-Ireland day at Croke Park as the home side resumed control.
Tries from Shane Horgan and Isaac Boss and conversions from Ronan O'Gara sealed the deal for Ireland. The final score was Ireland 43 England 13.
The home supporters at last, savoured the sweet taste of an historic victory.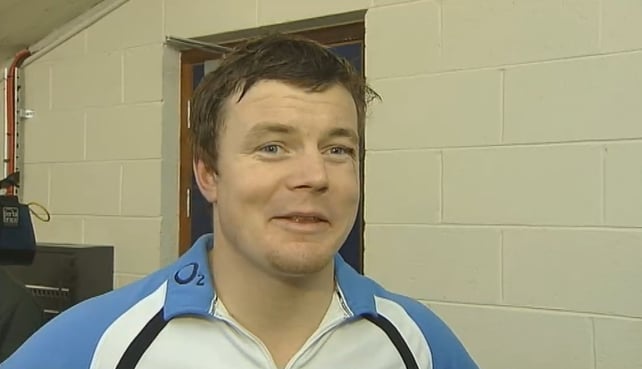 Brian O'Driscoll (2007)
After match reaction comes from Paul O Connell, David Wallace and Brian O' Driscoll, who says
That one won't be forgotten for a while.
An RTÉ News report broadcast on 24 February 2007. The reporter is Colm Connolly.