Meet Carol, Marie, Rosalind, Janet, Edith, Lorraine, Martin, Stephen, David, and Rebecca. These are the ten children of John and Mary Hall from Ballyfermot in West Dublin.
Reporter Patrick Gallagher meets the Hall family at their home to find out what it is like for a large family living on a tight budget in suburban Dublin.
John and Mary have been married for fifteen years. Mary has spent almost twelve years of her married life pregnant having lost two children. The children range in age from 14 to 2. The Hall family of twelve live in a rented three bedroom Dublin Corporation house.
Mary is thankful that they are all healthy, loves having a large family and says she wouldn't mind having more children.
I am thankful to God that I am healthy and that the kids are all healthy. I have had no trouble. I wouldn't think having a large family is any trouble. I think it all depends on the mother and I don't think it is any harm.
While Mary enjoys her family life, she acknowledges that there are financial challenges. A carpenter by trade, John makes his living as a shop-fitter earning around £23 a week, and frequently works overtime to supplement the family income. While their housing situation may be a bit cramped, John is appreciative of having their own front door and a garden, which they would not have if they lived in a flat.
This episode of 'Report' titled 'Thank God They Are All Healthy' was broadcast on 4 November 1971.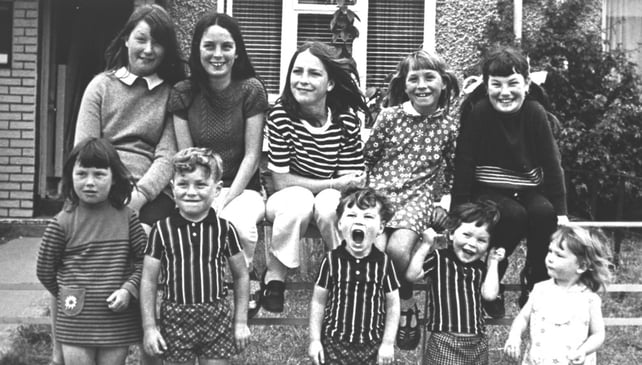 The Hall Family in Ballyfermot (1971)
The family photos shown here were taken by RTÉ photographer Des Gaffney.
'Report' was a series of filmed reports about aspects of Irish life presented by Patrick Gallagher. The programme was first broadcast on 15 October 1970.