Jerry McCabe, a member of the Garda Síochána is killed in Adare, County Limerick.
One detective Garda is shot dead and a second injured in Adare, County Limerick by members of the Provisional IRA, during the attempted robbery of a post office van.
Detective Jerry McCabe and his colleague Ben O'Sullivan both 52 were escorting a Post Office truck making cash deliveries in the area.
First-hand witness Willie Jackson, the An Post driver describes what happened
Three guys in army fatigues and balaclavas jumped out of the jeep and attacked the patrol car and started shooting. I jumped off the tail of the truck and moved onto the footpath. I had my hands in the air because I thought that they were in such as state that they would have shot anybody that passed.
At a press conference in Limerick City Gardaí told journalists that they had a report of suspicious activity near the Woodlands Hotel, a mile outside Adare earlier in the morning. They appeal for similar information from the public.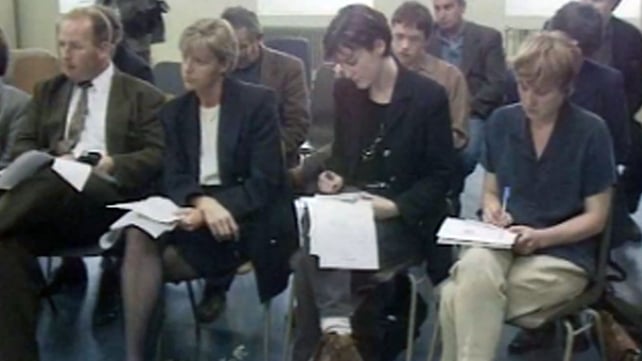 Journalists including Veronica Guerin attend a Press Conference following the death of Jerry McCabe
An RTÉ News report broadcast on 7 June 1996. The reporter is Cathy Halloran.