The only surviving son of an executed leader of the 1916 Rising.
92-year-old Jesuit, Fr Seosamh Ó Mealláin (Joseph Mallin) now living in Hong Kong, is the only surviving son of an executed leader of the Rising.
His father, trade unionist Michael Mallin, was a former British soldier, and Chief of Staff of the Irish Citizen Army. He commanded the garrison of rebels in St Stephen's Green and the Royal College of Surgeons. On Sunday, April 30, 1916 Mallin and his second-in-command, Constance Markievicz, surrendered to the British along with 109 men and 10 women. Though the British spared the Countess' life, the socialist Mallin was imprisoned in Kilmainham and later sentenced to death by firing squad on 8 May 1916.
Michael Mallin's letter on the eve of his execution, to his wife Agnes and family, is one of the most striking pieces of writing to emerge directly from Easter Week 1916 and provides an insight into a father's love for his family,
God and His blessed mother take you and my dear ones under their care. A husband's blessing on your dear head, my loving wife, a father's blessing on the heads of my children!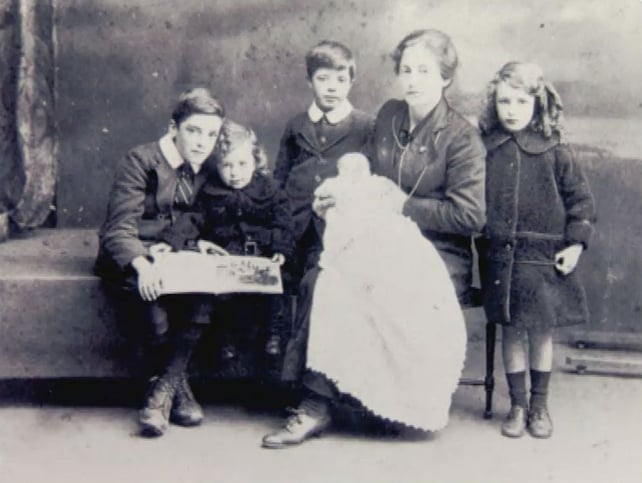 Agnes Mallin and her family
It provides insights to his patriotism
I do not believe our blood has been shed in vain I believe Ireland will come out greater and grander but she must not forget she is Catholic she must keep her Faith.
Fr Seosamh Ó Mealláin describes how his family gained comfort, when Pope Benedict the Fifteenth refused to denounce the insurrection after reading the condemned leaders' last letters released by the British after the Rising.
He also recalls how his father saved the life of a prominent Home Ruler. Civilian Laurence Kettle, was held captive by the insurgents in St Stephen's Green because he was suspected of being a British spy. Countess Markievicz wanted to shoot him but Mallin countermanded the order and referred to Markievicz as
A very bloody minded woman
Lawrence Kettle testified at Mallin's court martial that "the prisoner prevented my death by shooting" by this action.
An RTÉ News report broadcast on 15 April 2006. The reporter is Joe Little.