A collection of items connected to Countess Constance Markievicz form an exhibition at Lissadell House in Sligo.
When Eddie Walsh and Constance Cassidy bought Lissadell House in Sligo, they trawled the country to retrieve and acquire as much Constance Markievicz memorabilia as they could find resulting now in a fascinating collection in the restored coach house at Lissadell.
Probably the most important are the plans of the 1916 rising prepared by Constance where she writes in a copybook of Polish origin all of the points of offence, all of the points of defence for the 1916 rising.
The collection tells the life story of Constance from her childhood at Lissadell and includes her Fianna Fáil membership card, poetry she wrote, sketches and paintings that she did as a girl and as a prisoner in Holloway jail. Her wedding veil is on display as well as two paintings of Constance by her Polish husband Casimir Markievicz painted around 1900 and again in 1927 shortly before her death.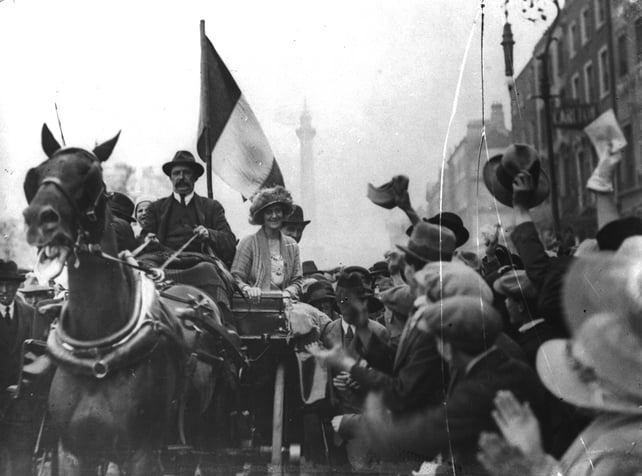 Countess Markievicz (1917), Cashman Collection
An RTÉ News report broadcast on 30 March 2007. The reporter is Eileen Magnier.