Cúrsaí visits Ardmore Studios in Bray, county Wicklow where filming is taking place of a new Irish language film Grásta i Meirceá.
The film is directed by Noel O Briain and features Cóilín Ó Scolaí and Diarmuid de Faoite as Seán and Finbar. The two young men are living and working illegally in New York. One weekend they decide to travel to Graceland to pay their respects to their hero Elvis Presley.
Author Antoine Ó Flatharta describes the screenplay as,
...is turas atá ann ar bhealach amháin, faoi Mheiriceá an samhlaíochta...Tugann siad faoi deara, ó d'fhás siad suas, go raibh tionchair ag íomhá as Meiriceá oraibh, agus rudaí a chonaic siad ar an teilifís, agus na rudaí a fheiceann siad agus iad a' dul trí Mheiriceá, gur beag difríocht atá eatarthu, ach ar an taobh eile den scéal, go bhfuil difríocht an-mhór eatarthu.
'Cúrsaí' visited the set at Ardmore in June 1990 and this episode was broadcast on 19 December 1990. The report shows the crew at work on the set and actors preparing for the shoot.The actual film 'Grásta i Meirceá', written by Antoine Ó Flatharta, was broadcast the following day on 20 December 1990.
'Cúrsaí' was an Irish language series which ran on RTÉ Television from 1986 to 1995. In its early days, Cúrsaí was billed as "iris-chlár le béim faoi leith ar chúrsaí reatha an lae agus ar chúrsaí na tíre i gcoitinne" (RTÉ Guide, 17 October 1986). But it covered a wide range of topics and was broadcast four nights a week, from Tuesday to Friday, on RTÉ 2.
The interview from this episode of 'Cúrsaí' was broadcast on 2 February 1988.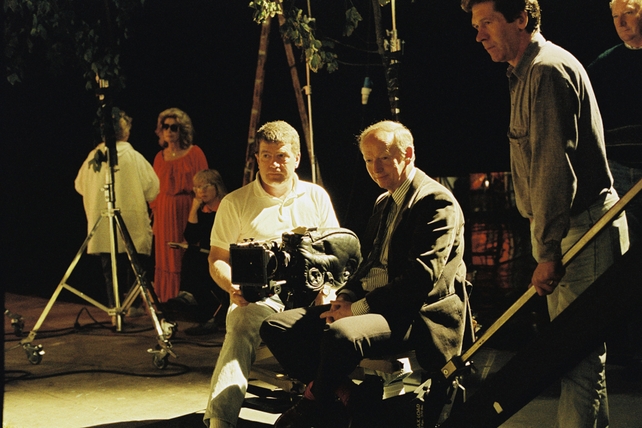 'Grásta i Meiriceá' Camera Crew on set at Ardmore Studios, County Wicklow (1990)