The Kalem Company an American film studio came to Ireland to make films from 1910 to 1914.
Film historian Liam O'Leary gives the background to the Kalem Company's time in Ireland between 1910 and 1914. The Kalem Company intended to build a film studio in Killarney but the outbreak of the First World War changed that.
The biggest event I think was really the coming of the American Kalem Film to Beaufort, Killarney, where they stayed for about four summers from 1910 to 1914.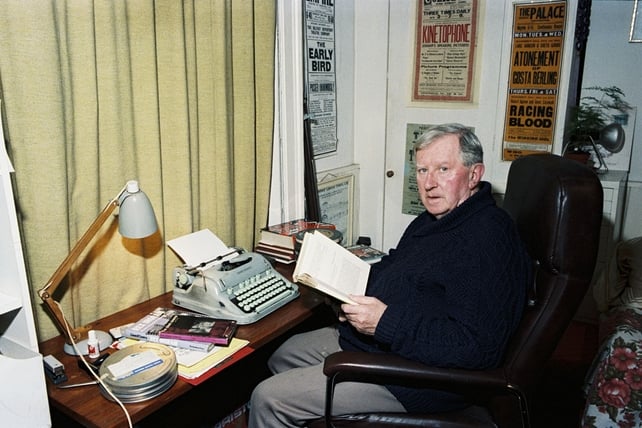 Liam O'Leary (1983)
In an interview originally recorded for radio, Annie O'Sullivan recalls the summers the Kalem Company spent making films in Killarney and Beaufort. O'Sullivan was the daughter of the hotel owner where the Kalem crew stayed in Beaufort. She explains how Sidney Olcott the star and director of many of the Kalem films was asked by the owners of the company where in the world he would like to go to with a film crew. Olcott chose Ireland as his mother had been born there. Annie O'Sullivan remembers the films that were made and describes the plot to her favourite, 'Rory O'Moore'.
In another interview originally recorded for radio, Robert Vignola, an actor and assistant director with the Kalem Company, describes a sermon given by a local priest at Sunday mass. The priest was highly critical of the film production and the film makers. Vignola recalls the priest describing them as,
Tramp photographers invading our country
This extract includes clips from 'The Lad From Old Ireland', 'Rory O'Moore' and 'You Remember Ellen'. 'The Lad From Old Ireland' is thought to have been the first American film made outside of the USA.
Although the voiceover to the clip says the interviews were recorded in 1976 O'Sullivan and Vignola were actually recorded for a radio programme broadcast in 1953. For this programme 'Ireland's First Films' producer Proinsias Ó Conluain recorded in Killarney and spoke to individuals who took part in Kalem's Irish films or remembered their visits.
The six part series Memories in Focus traces Irish film making from the earliest days to the mid 1970s.
Memories in Focus: From Lantern to Slide Show was first broadcast on 27 April 1995. The presenter in Niall Tóibín.
The extracts from the Kalem films 'The Lad From Old Ireland', 'Rory O'Moore' and 'You Remember Ellen' were all used in 'Memories and Focus' courtesy of the Irish Film Archive at the Irish Film Institute.