The Slazenger family re-open Powerscourt Estate to the public.
While the future of the house is still undecided, a team of architects is preparing a report on the remaining shell. As the structure is not completely safe, a safety fence will prevent visitors getting too close to the house when the estate re-opens.
The Slazenger family showed RTÉ News around the estate ahead of its reopening the following weekend. While the gardens have been open to the public for over 100 years, the house itself was always kept private.
The Slazenger family bought the estate in 1961. About 50,000 people visit the estate at Enniskerry, county Wicklow every year. The family plan to spend large sums of money to prevent the collapse of the remaining facade.
Powerscourt House was destroyed by a fire on 4 November 1974. It had been built for the Wingfield family in the 18th century by architect Richard Cassels on the site of of a 13th century castle owned by the De La Poers. The house was subsequently renovated in 1996.
The film includes shots of the Slazenger Family, Estate Manager Tom Clarke, and Tourist Manager Ailene Butler.
An RTÉ News report broadcast on 20 March 1975.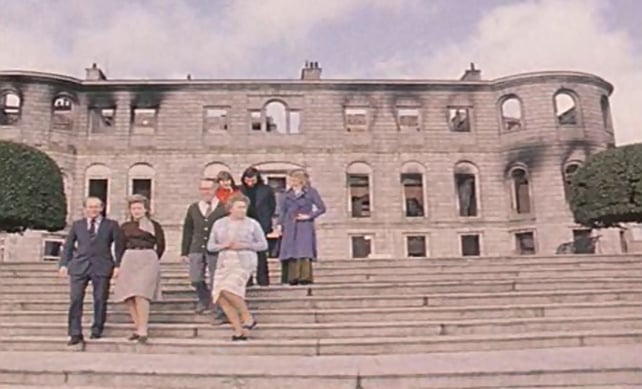 Slazenger Family on Steps of Powerscourt House