The Dunnes Stores strike against apartheid began on 19 July 1984 when 21-year-old check-out operator Mary Manning was suspended from her job for refusing to handle South African grapefruit.
Manning was following a union instruction passed on to her by shop steward Karen Gearon, who walked out of work in support of her. They were joined on the picket line by eight of their colleagues and would remain on strike for two years and nine months until the Irish government implemented a nationwide ban on the importation of South African goods.
In this report, strikers Sandra Griffin, Theresa Mooney, Karen Gearon and Tommy Davies tell her how it all started.
This episode of The Women's Programme was broadcast on 22 March 1985. The reporter is Doireann Ní Bhriain.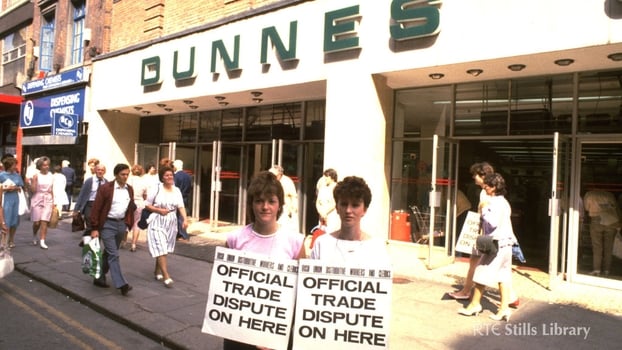 Strikers outside Dunnes Stores on Henry Street, Dublin (1984)