On Easter Monday 24 April 1916 members of the Irish Volunteers, the Irish Citizen Army and Cumann na mBan gathered at a number of meeting points across Dublin before heading to the city centre to seize a number of key locations.
This was the beginning of six days that would become known as the Easter Rising.
In the 1950s and the 1960s RTÉ radio and television recorded interviews with participants in the Rising. In a new online exhibition 'Easter 1916' RTÉ Archives publishes first hand accounts from some of these recordings. In the lead up to the 100th anniversary of the Rising more content will be made available as part of this exhibition.
Here Desmond Ryan recalls taking over the General Post Office in O'Connell Street. This interview was recorded in 1964 and is one of a series filmed by RTÉ television but never broadcast under the title 'The Survivors'.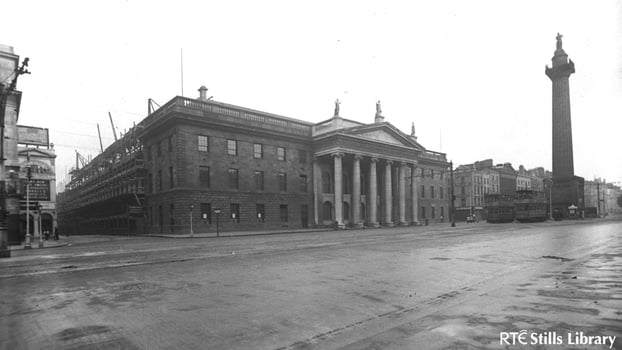 GPO (General Post Office) on O'Connell Street, Dublin.