British Labour politician and journalist Michael Foot on his long standing interest in Jonathan Swift.
The third volume of Irvin Ehrenpreis's biography of Jonathan Swift had just been published, so RTÉ's Patrick Gallagher took the opportunity to speak to Foot about his own longstanding interest in Swift. Foot wrote a book about Swift, 'The Pen and the Sword', after losing his seat in the 1955 election.
Here, Foot recalls how he became familiar with the work of Swift through his father Isaac. He first came to Ireland for Swift's tercentenary celebrations and then again to deliver the Swift Memorial Lecture from Swift's own pulpit in St Patrick's Cathedral. At the pulpit, Foot felt "extremely alarmed", but hoped to uphold Swift's revolutionary doctrines. He believes that Ireland transformed Swift into the person he was when he wrote the 'Drapier's Letters' and that the best part of Ehrenpreis's new book is the section on this.
This episode of 'Folio' was broadcast on 28 February 1984.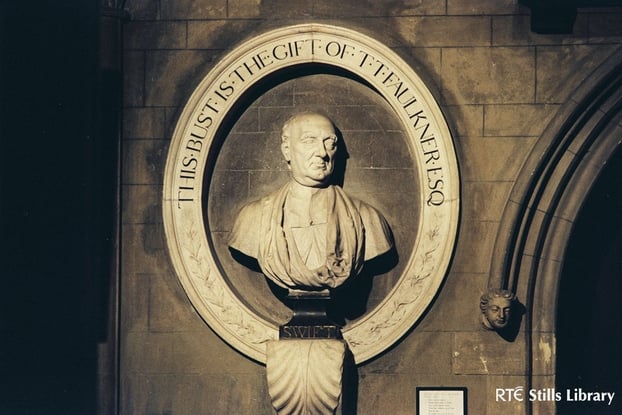 Bust of Jonathan Swift in St Patrick's Cathedral, Dublin. Photo by Peter Harding.