In her husband Mr Cheong's words, Yeong-hye is "completely unremarkable in every way" and that is how he likes her. She is just there, ordinary, undemanding, non-threatening. She fits his life. That is, until she decides to throw out all the meat in the fridge and be a vegetarian. Her decision surprises and shocks her family. Her husband sees it as an act of defiance. It unsettles him, it is unconventional, out of the ordinary. Her parents are disgusted. Soon the shock is turned on the reader when Yeong-hye's father, a violent man, hits her and tries to force-feed her a piece of meat. She reacts by cutting herself with a knife. "Blood ribboned out of her wrist, " we read in Deborah Smith's fluid translation from the Korean. "The shock of red splashed over white china." All Yeong-hye will say is: "I had a dream."
Yeong-hye's family are not the only ones baffled and annoyed by her behaviour. At a work dinner, the wife of Mr Cheong's boss queries as follows: "A balanced diet goes hand in hand with a balanced mind, don't you think?" When Yeong-hye doesn't even have "the grace to look embarrassed", her husband bleakly reflects on his wife's demeanour: "In that moment, she was utterly unknowable". 
This short novel is told in three parts; the first concerns Yeong-hye's decision to give up eating meat and her family's reaction to it, her failure, as they see it, to live up to certain expectations. The second focuses on her obsessive brother-in-law, an artist fascinated by Yeong-hye's body, and the third act is voiced by his wife, Yeong-hye's sister In-hye, a cosmetics shop manager.
What runs through this book is control and the desire for it, over people, over expectations, over our bodies - and the consequences of that. Towards the end In-hye says: "It's your body, you can treat it however you please. The only area where you're free to do just as you like. And even that doesn't turn out how you wanted." Yeong-hye is almost silent throughout, yet utterly dominates the book. She is uncompromising and that frightens others. It frustrates them, scandalises them, sometimes with violent results. Compromise is what people do. Most people. 
The Vegetarian is shocking, provocative, disturbing. It has blood and guts, though for me, heart and soul were harder to find. It is not for everyone. It is an intense read and like no other book I have ever read. It is uncomfortable, it startles, it is also beautifully written and completely unforgettable. 
Avril Hoare
Note: South Korean author Han Kang shared the £50,000 (€64,000) the Man Booker International award for The Vegetarian with her translator Deborah Smith, who only learned South Korean seven years ago. The judges who awarded the novel the Man Booker International award described The Vegetarian as "concise, unsettling and beautifully composed" and an "uncanny blend of beauty and horror." Kang's unsettling tale was first published in the original Korean in 2007.
Chair of judges Boyd Tonkin described Han Kang's novel as "almost an outlandish story - a story that could topple over into crude horror or melodrama, or just over-emphatic allegories" but one that had "extraordinary poise and tact and control."
2016 marks the first year the Man Booker International award has been awarded to a single book, rather than a body of work. A recent survey has also revealed that translated fiction now exceeds sales of English fiction in the UK.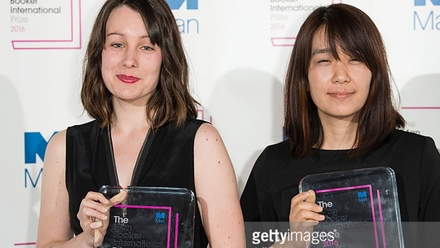 Deborah Smith and Han Kang pictured with the International Man Booker Award, May 16 last