Celestine North lives life by the rules. They suit her. She trusts logic and strives for perfection. She is secure and happy. She likes things that are definite, which is just as well, because she lives in a society where bad judgement, breaking the rules - not the law - can leave a person branded. Literally branded, with a hot iron on skin - on the temple for bad judgement, on the tongue for a liar. They are judged to be Flawed and to be Flawed means being publicly punished and humiliated. They must suffer and be seen to suffer. "Their scars as identifiers, their armbands, their limited possibilities, living in society but everything they want being just out of reach."
Their brand must be on display at all times so others know they are Flawed. It keeps them in line and reminds them what could happen if they too defy the moral standard. The Flawed must wear a red armband with a big 'F' on it, they are despised, feared, ostracised. Their lives are controlled, their options limited. They must obey a curfew, eat basic meals (their families cannot eat what they eat) and take a daily lie detector test. They are watched over by hawk-eyed whistle-blowers.
This is enforced by the Guild, headed by Judge Crevan, who has the power to decide who is Flawed. His son Art is Celestine's boyfriend. They are happy with their 'perfect' lives and their plans for a bright, planned future together. Until the day that Celestine makes a decision that could change her life forever and make others question the moral code they obey.
Set in the near future following a banking collapse and a broken economy, Flawed is Cecilia Ahern's first novel for Young Adults. It's pacy and gripping and demonstrates again what a good story teller she is. It feels familiar, with references to mobile phones, reality TV shows and a city bike rental scheme. Moreover, Ahern's protagonist wears skinny cropped trousers and ballet flats. Celestine, who is forced to question her values and her faith in the system. "My black and white is now fuzzy and grey," she says. This is particularly difficult for someone who isn't a rule-breaker by nature and it's what makes Celestine's story so engrossing. She does not want to step outside the lines. The tension in Flawed feels real, Celestine's dilemma and actions believable.
In the acknowledgements, Cecilia Ahern says she wrote the story "with anger, with love, with passion. Every word and sentiment came from the heart. If there's one message that I hope this book portrays, it's this: none of us are perfect. Let us not pretend that we are. Let us not be afraid that we're not. Let us not label others and pretend we are not the same. Let us all know that to be human is to be flawed, and let us learn from every mistake made so that we don't make them again". As she says, this is a book from the heart. There is a sequel coming. I can't wait.
Avril Hoare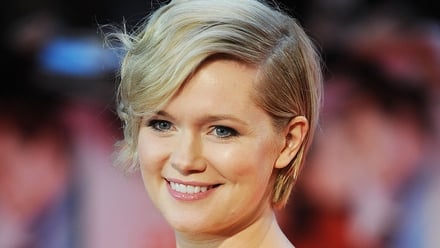 Cecelia Ahern