Deborah Levy is already well got in the hot house of contemporary British fiction, where there are hundreds of voices trying to be heard each day. Perceptive, irascible and very wise, you may find yourself occasionally resisting her characters and their sometimes inane problems, but you could never accuse her of heavy going or of being worthy. 
The author was shortlisted for the Man Booker prize in 2012 for her piquantly entertaining novel Swimming Home. Her 2013 stories Black Vodka were shortlisted for the Frank O'Connor International Short Story Award and the BBC International Short Story Award. Born in South Africa in 1959, Levy has written over 20 plays, including commissions for the Royal Shakespeare Company and for BBC Radio Four.
Her metier is a kind of refined comedy of manners, but it's not any kind of laugh-out-comedy - Levy is more interested in the hapless human situations that bedevil us all. Despite the sunny locations  -  a posh holiday home in France in Swimming Home, and expensive therapy clinic in the South of Spain in Hot Milk - Levy is all too true in how she depicts the human condition.
Levy's fiction works on the premise that that there are no solutions, no magic fix-it, no guaranteed redemption, ultimately people battle along in essential solitude. The solitude seems particularly marked in the case of the unfulfilled Sofia, the twenty-something daughter of the piece. She is flailing around in terms of her identity - sexual and otherwise - aware that, despite her degree in anthropology and the proposed doctorate, she is stuck making coffees in a café back in London.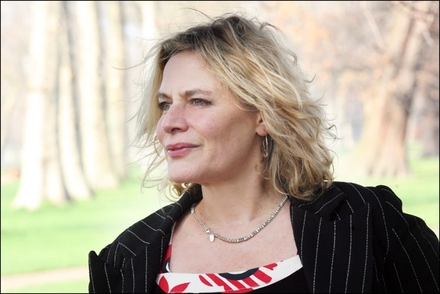 Deborah Levy (photo credit Shelia Burnett)
However, Sofia is in the Almería region of South-Western Spain when we meet her, where her mother has paid for criminally-expensive sessions in a clinic run by a Spanish doctor who may or may not be a quack. He takes her off three of her daily medications for starters. Meanwhile, his daughter, whom he has recently employed - and whom he calls Sunshine - applies a kind of physiotherapy that is more akin to psychotherapy. It just gets weirder and weirder by the minute, but never so weird that you would say that this could never happen. 
Craving love and attention, Sofia sleep-walks into individual sexual encounters with a local Spanish guy and a German girl, Ingrid, who is working locally as a seamstress and has a boyfriend. Then suddenly, in a kind of impulsive jolt, she takes a flight to Athens to meet her born-again (religious) Greek father and his youthful second wife and daughter.
Sofia's relationship with dad is just as conflicted as that with her mother. The 218-page tale takes soundings of both relationships convincingly, with a painterly eye for the odd, yet resonant detail and a finely-attuned ear for dialogue. Hot Milk is a kind of micro-study of ordinary lives that are, of course, not ordinary at all, as revealed under the Levy microscope, where all is mercilessly in the open and has to be confronted.
Deborah Levy will be in conversation with RTÉ's Sinead Crowley on Sat May 21 at 4.00pm at Smock Alley Theatre, Dublin.
Paddy Kehoe