RTÉ launches Radio 2 with the phrase "It is all coming at you now" at an event in the radio centre, Donnybrook.
Minister for Post and Telegraphs Mr Padraig Faulkner launched the new station. The station is to broadcast for nineteen and a half hours each day and hopes to appeal to,
women at home, motorists, workers of industry as well as many young people.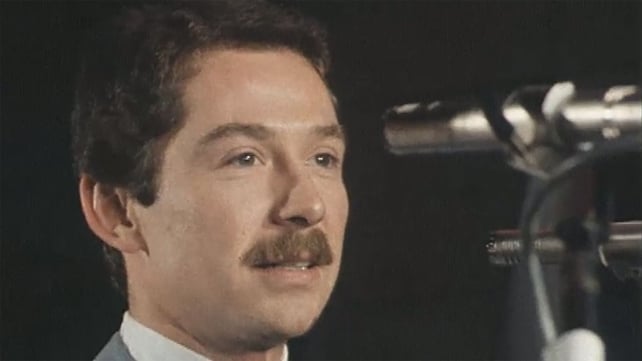 Vincent Hanley at the launch of RTÉ Radio 2.
RTÉ Radio 2 was launched on 31 May 1979. Brendan Balfe was the first voice on the new station when he introduced Radio 2's first presenter Larry Gogan. New presenters included Dave Fanning, Gerry Ryan, and Marty Whelan. The new station quickly established an identity for itself with the sponsorship of the Dublin City Marathon, the Radio 2 Roadcaster and a high profile commitment to supporting Irish contemporary music. A second national station meant that RTÉ Radio became RTÉ Radio 1. In 1988 RTÉ Radio 2 became 2FM. Another name change in 2000 saw the station become RTÉ 2FM.
Title:

New National Radio Channel

Clip Duration:

00:01:35

Material Type:

Video

Clip Title:

RTÉ Radio 2 Launched

Series Title:

RTÉ News

Information:

RTÉ Radio 2 was launched on 31 May 1979. Brendan Balfe was the first voice on the new station when he introduced Radio 2's first presenter Larry Gogan. New presenters included Dave Fanning, Gerry Ryan, and Marty Whelan. The new station quickly established an identity for itself with sponsorship of the Dublin City Marathon, the Radio 2 Roadcaster and a high profile commitment to supporting Irish contemporary music. A second national station for RTÉ meant that RTÉ Radio became RTÉ Radio 1 and the new station RTÉ Radio 2. In 1988 RTÉ Radio 2 became 2FM. Another name change in 2000 saw the station become RTÉ 2FM.

Local Keywords:

RTÉ, Broadcasting, Radio, Radio 2, 2FM, 1970s, Padraig Faulkner, Brendan Balfe, Vincent Hanley

Coverage:

Ireland

Topic:

The Media

Publisher:

RTÉ

First Broadcast Channel:

RTÉ One

Broadcast Date:

31/05/1979

Production Year:

1979

Country of Production:

Ireland

Original Identifier:

N151/0079A

IPR Restrictions:

Rights Reserved - Free Access

Rights, Terms and Conditions:

Copyright RTÉ. This material may not be replicated in any form or manner without the prior express permission of RTÉ. Any form of reproduction in print, television, video, multimedia, web site or other electronic media or any form of dissemination for commercial or non-commercial use must be licensed by the RTÉ Archives. If you wish to licence video or audio clips, still images or text, or would like further guidance please contact us.

RTÉ Archives are committed to respecting the copyright of others and have attempted to source and credit the copyright owners of all material used here. RTÉ would like to hear from any copyright owners who are not properly identified here so that the necessary corrections can be made. If you feel your copyright has not been respected please contact us.

Item Type:

part/extract

Colour:

Colour

Sound:

Mono

Aspect Ratio:

4:3

Language:

English and Irish