Craoladh 'Rí ar an Uaigneas' as Gaeilge amháin ar an 1 Feabhra 1984 agus an leagan seo le fotheideal Béarla ar an 5 Feabhra 1984.
The documentary looked at the life and work of the poet Seán Ó Ríordáin, 'King of Loneliness'. It was produced by Seán Ó Mórdha, who had a long association with the poet from his days as a student. The poet's biographer Seán Ó Coileáin wrote the script, narrated by Diarmuid Ó Muirithe.
This extract is taken from the opening of the documentary and shows the room where Seán Ó Ríordáin did all his writing in the family home in Inniscarra, Co. Cork. Sean Ó Mórdha told the RTÉ Guide that no-one had ever been in this room in a preview published on 27 January 1984. Inniscarra was Ó Ríordáin's home from childhood to death, though he spent years in the sanatorium at Doneraile because of his tuberculosis.
Rugadh Seán Ó Ríordáin i mBaile Bhúirne, Co. Chorcaí, sa bhliain 1916. D'aistrigh a chlann go Inniscarra tar éis bás a athar. Bhí Seán Ó Ríordáin tinn le heitinn i rith a shaoil agus fuair sé bás i 1977.
'Rí ar an Uaigneas' was broadcast on 5 February 1984.
'Rí ar an Uaigneas' was restored in 2007, thirty years after the poet's death, and broadcast again on Christmas Day 2007.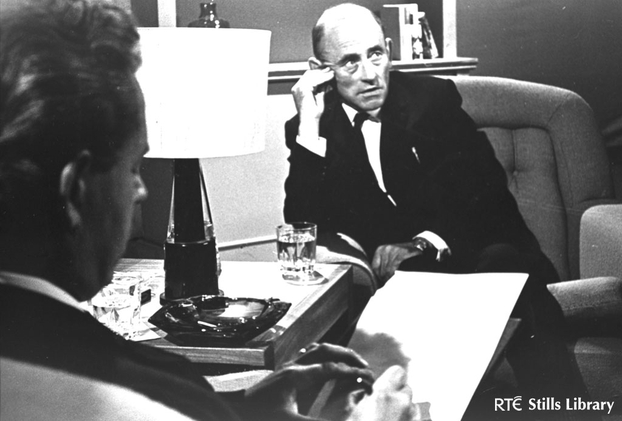 This photo shows Seán Ó Ríordáin (right) with RTÉ producer Aindréas Ó Gallchóir. © RTÉ Archives 0067/056