Dog owners, dog lovers and prize winning rosette makers.
For Gerry and Nancy Daly, owning prize dogs happened almost by accident. Nancy Daly is the owner of a Norwegian Elk Hound and a Bernese Mountain Dog and has gone from winning local dog shows to Irish championships.
Dogs used to the glamour of show and exhibition, of competing for and winning prizes.
While Gerry and Nancy Daly are proud of their prize champion winning dogs, they also love them as domestic pets. The dogs have won rosettes and trophies at scores of exhibitions at home and abroad.
The Daly's entire living room is a riot of ribbon and colour. Eloquent testimony to the quality of their animals.
The couple and their dogs are no strangers to the Combine Canine Society Annual Championship Show, known to most as "the dog show at the RDS".
Big dogs, tall dogs, long dogs, small dogs, placid and vicious, languid and suave, winners, losers, charmers, rogues, four-legged fellas standing in rows.
The event at the RDS is not just for dogs and their owners, it is also a social occasion. People come from all over the country to spot the best in show.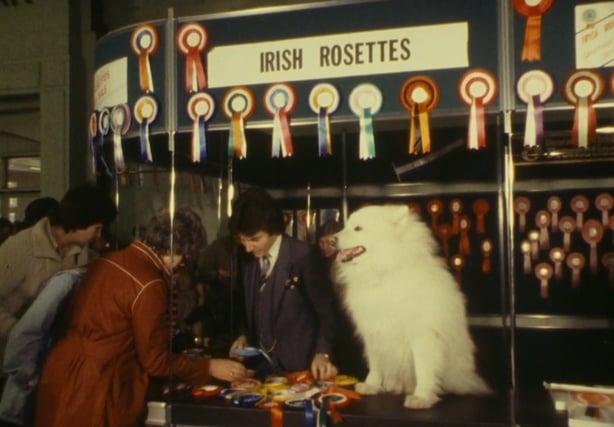 Nancy and Gerry Daly are not just ordinary dog owners. They have also built a business around their love of dogs making rosettes for the prize winning animals. The couple set about breaking the notion that you had to win something to get a rosette. There is a rosette for every occasion and their home industry has gone from strength to strength. They now employ four full-time and two part-time workers. As the business had grown, the Dalys are now looking to move their business out of their home and into a suitable factory space.
An employment generating success story in the middle of a recession.
The exhibition stand at the RDS Dog Show is a testament to their quality product.
This episode of 'Ireland's Eye' was broadcast on 13 May 1982. The reporter is Pat Butler.
'Ireland's Eye' was a Tuesday-to-Friday series with human interest stories and features from locations throughout Ireland. First broadcast on 7 October 1980, the programme ran until August 1983.