A study of pterostigma on insect wings is awarded the top prize at the Young Scientist of the Year Exhibition.
The 1972 Young Scientist Exhibition at the RDS in Dublin is bigger than ever with entries up 40 per cent on last year.
For the first time, Northern Ireland was represented at the exhibition by schools from Derry, Enniskillen, Lurgan, Coleraine and Belfast.
Projects covered seven different subjects with the largest number of entries in the biology section with over 100 exhibits. Studies ranged from river pollution to the challenges of flying in space.
The title of the Young Scientist of the Year went to 16 year old Seán Mac Fheorais, a student at Colaiste Mhuire. His project examined the wing markings of dragonflies and the crane fly more commonly known as Daddy Long Legs. Seán Mac Fheorais explains the background to his study of pterostigma on the wings of insects.
George Colley TD Minister for Finance presented the awards to Seán Mac Fheorais and the runners up Geraldine O'Hagan from Mount Lourdes Grammar School, Enniskillen, County Fermanagh and Patrick Owen Mullins from Saint Peters College, Wexford.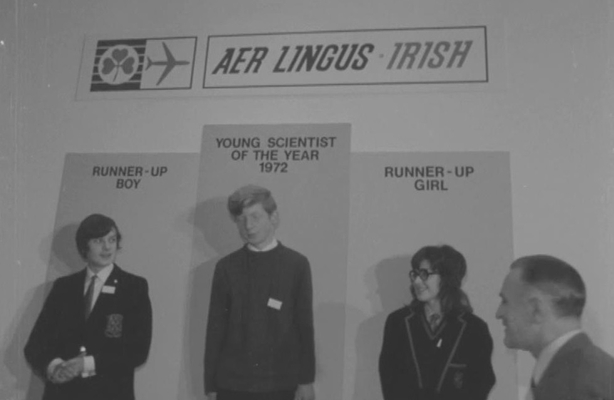 An RTÉ News report broadcast on 7 January 1972. The reporter is Reg Cullen.