A look at some early Irish landscape paintings at the National Gallery of Ireland.
Anne Crookshank, Professor of Art History at Trinity College Dublin, explains that landscape painting came rather late to Ireland. The interest in landscapes coincided with a growing interest in antiquities, which could include anything from a prehistoric dolmen to a 17th century castle. People began to notice the countryside.
Landscape painting in Ireland developed rather late. Not until about 1740 do we find Irish painters regularly going out into the countryside and painting views.
Another influence on the interest in landscapes came in the 1720s when a Dutch artist Willem Van Harden came to work in Ireland and inspired Irish artists.
Typical of this early period of landscape painting in Ireland is an image of Leixlip in County Kildare by an anonymous artist. Leixlip was an ideal site for those interested in landscapes with its medieval castle and a salmon leap. The painting is typical of this early period as the viewer looks down on the landscape similar to a bird's-eye view.
It's really quite like Leixlip is today.
The painting also features quite a lot of figures in the foreground, each with a story to tell.
It's a very satisfying landscape, very straightforward topography.
Anne Crookshank is somewhat critical of the painter's representation of cows in the painting noting that the one in the foreground has the oddest legs.
Also around this time, people began to become interested in the dramatic wild scenery around Dublin. An example of this can be found in a painting of Powerscourt waterfall by George Barret. Anne Crookshank notes that some time in the 1740s, when George Barret was a student in the Dublin Society Schools, he must have met Edmund Burke who was then a student at Trinity College. It is thought that Edmund Burke suggested that George Barret go out and paint the wild scenery of the Dargle Valley.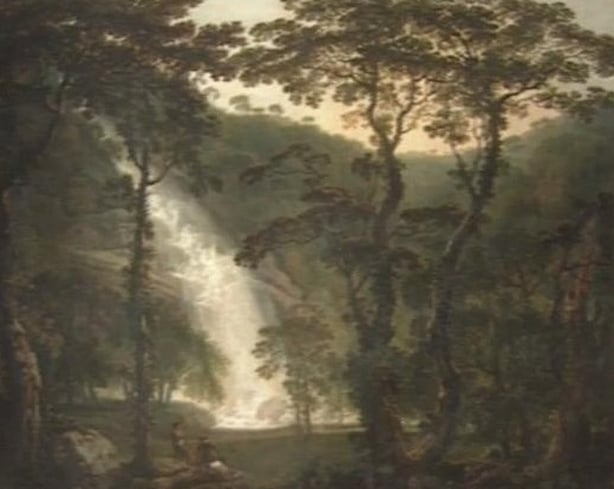 It was wild scenery that was Barret's great triumph throughout his career.
'Eye of the Artist: Early Irish Landscapes' was broadcast on 19 November 1986. The presenter is Anne Crookshank. The programme is introduced by Bill Skinner.
'Eye of the Artist' was a 13 part series examining some of the pictures created by Irish artists down the years and held by the National Gallery of Ireland. The series was produced and directed by Bill Skinner.