'Mother Ireland' the latest book from Edna O'Brien's is a searing look at Ireland but not a rejection of the country.
On Howth Head in County Dublin Edna O'Brien talks to Tom McGurk about writing, how to tell a story and her latest novel 'Mother Ireland.'
Edna O'Brien says that writers constantly write about the same themes but she believes it is not the story that is important but rather the perspective from which it is told.
It's not the story we tell as writers but the point of view from which we tell it.
Her first book 'County Girls' published 15 years ago was about girlhood and girls observing the adult world around them in a sort of skittish and poignant way. Her latest book 'Mother Ireland' looks at the same landscape as 'Country Girls' but from a more mature and reflective perspective.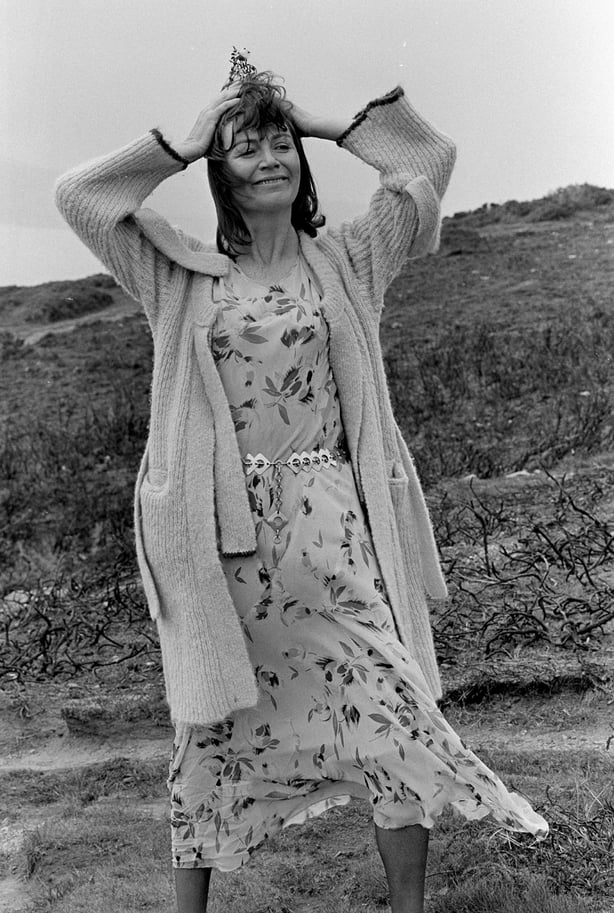 Edna O'Brien on Howth Head (1976). Photo by Ronan Lee
Tom McGurk puts it to Edna O'Brien that if he did not come from Ireland and read 'Mother Ireland', he would be presented with an image of a country that is extremely bigoted and oppressed, a world without laughter, humour or kindness. Taken aback by this suggestion and she says that in her experience, many English and American readers have remarked to her about how funny the book is.
If you think it doesn't have humour, I think that's your problem, not mine.
Edna O'Brien sees humour in religious folklore being passed from one generation to the next. She also refutes the assertion that 'Mother Ireland' is a rejection of Ireland, noting that it says in the book,
Irish, in truth, I would not want to be anything else.
Being Irish means being at odds with all other nationalities and having a different philosophy about pleasure, punishment, life and death. Rather than it being a rejection of Ireland, Edna says,
It's a very searing look at my own country and myself but as for being a rejection of Ireland, it just isn't so.
This episode of 'Last House' was broadcast on 20 July 1976. The presenter is Tom McGurk.
'Last House' was launched as a summer magazine programme featuring all the latest arts news in 1975. It was produced by John McColgan and presented by Tom McGurk and Áine O'Connor. It was so popular that it was converted into 'First House' for the autumn season, reverting to 'Last House' the following summer, when it was produced by Agnes Cogan.