The writer Kate O'Brien presented a portrait of herself to her native Limerick.
It was painted in oils by James Sleator, president of the Royal Hibernian Academy, in 1947. O'Brien was thanked by Frank Glasgow, chairman of the Limerick Art Gallery committee at a reception held in her honour. Other committee members present included C. V. O'Malley, who praised her for raising the artistic status of Limerick.
Kate O'Brien was living in England at the time. She moved abroad in 1920 after graduating from UCD with a degree in English and French and did not live in Ireland again until 1950, when she moved to Roundstone in Galway for ten years. The author of nine novels and various other works, two of her novels were banned in Ireland: 'Mary Lavelle', about a young Irish governess in Spain, who falls in love with the married son of her employers, and 'The Land of Spices' (1941), about a woman who became a nun when she realised her father was involved with another man.
An RTÉ News report broadcast on 22 January 1965.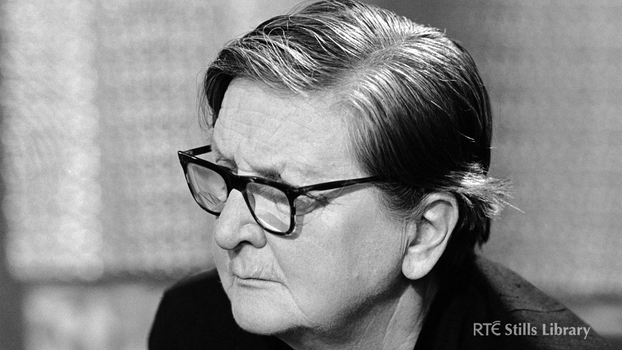 Kate O'Brien on 'The Late Late Show' in 1969