Dominican priest Austin Flannery has an abiding passion for modern church art and architecture.
Father Austin Flannery has had a lifelong interest in modern religious art. After Vatican II he served on an Episcopal mission, advising on the restricting and the rebuilding of churches. He has compiled directories for the remodelling of church sanctuaries.
Responding to the need to update church décor, Austin Flannery brought together painters, sculptors and art critics to discuss new ideas. In 1962 he organised a Dublin exhibition of contemporary German churches in Dublin's Municipal Art Gallery. This exhibition had a profound impact on artistic thinking at the time.
Former curator of the Municipal Art Gallery James White considers,
This got us off to a tremendous start in the field of modern art, architecture and religious matters.
After World War II German churches had to be completely rebuilt, which in turn created major advances in design. Austin Flannery regards Saint Fintan's Church in Sutton designed by architect Andy Devane to be a fine example of a church built in modern idiom. Although modern in style, the church manages to create a spiritual atmosphere.
The thing I like about this church is that it's simple, it's not pretentious.
Saint Fintan's Church courtyard serves a dual purpose. It is a place for the congregation to meet, but it also serves as a buffer between the church and the street.
Austin Flannery thinks most people receive a poor visual education.
When it comes to people and the arts it's not a case of educating people, it's a question of removing the bad education they have.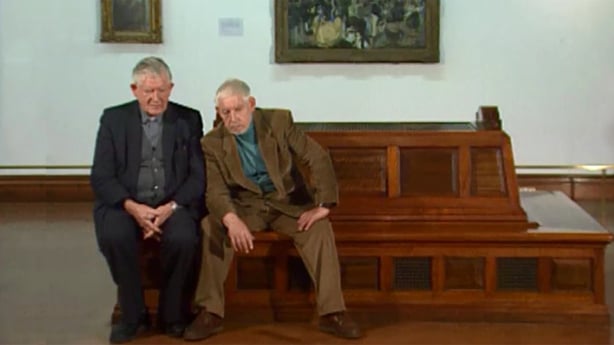 'Radharc', a series specialising in religious programming, was produced for RTÉ by Radharc, an independent production company run by Catholic priests and lay staff. 'Radharc' can be translated to English as 'view' or 'panorama'.
Co-founders Fr Joe Dunn and Fr Desmond Forristal who had received training in television production in New York in 1959 gathered around them a team of like minded priests with creative talent.
The 'Radharc' team made their first production in 1960 in Donegal, a short film about customs relating to St Brigid's Day. The first programme in the 'Radharc' series for RTÉ was broadcast on 12 January 1962.
Between 1961 and 1996 the 'Radharc' team would produce over 400 films in Ireland and 75 countries worldwide. The films dealt with human rights, injustice, faith, religion, persecution, struggles against oppressive regimes, famine, and Christian heritage.
The popular series ended production in 1996 after the death of Father Joe Dunn.
'Radharc: Christian Campaigners - The Quiet Crusader' was broadcast on 2 June 1996.