Dancers from Ireland and overseas take part in the Irish Dancing World Championships.
The Irish Dancing World Championships were held at Colaíste Mhuire, Dublin.
Thousands of dancers who qualified from their own particular region compete for the titles. Dancers travelled from the UK, America and Australia to compete.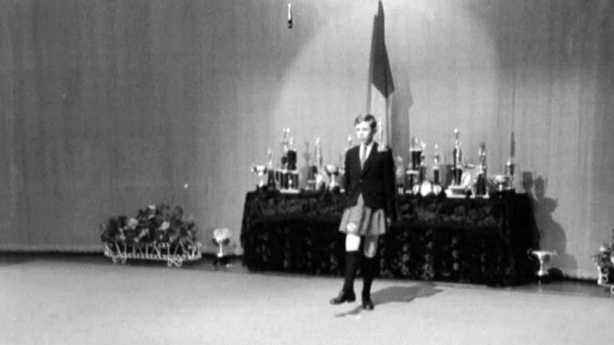 Irish Dancing World Championships (1971)
The adjudicators include Siobhán Ní Longaigh, ADCRG from London; Eibhlin Bean Mhic Chormaic, ADCRG from Dublin; and Maire Ní Osain, ADCRG from Cork.
The music is provided by the Siamsa Ceilí Band from Dundalk.
The overall winners were:
Junior Ceilí Dance Championship - Inis Ealga, Dublin
Intermediate Boys Championship (Under 15) - John Burns, Matthews School, Dundalk
Junior Figure Dance Championship (Under 16) - Inis Ealga
Ladies Championship - Kavanagh School London
Intermediate Girls' Championship - Imelda Florence Walsh, Dublin
Senior Ceilí Dance - Kavanagh School
Senior Boys Championship - J Johnson, Matthew School
Senior Figure Dance - (Tie) Inis Ealga and Cullinane, Cork
Senior Girls' Championship - Maureen Sheridan, Crean School, London
Minor Ceilí Championship - Heeney School, Dundalk
Men's Championship - Dan Armstrong, Armstrong School, Belfast
An RTÉ News report broadcast on 24 April 1971.