The President opens Willie Bermingham Place, a residential complex providing housing for older people in need.
The Willie Bermingham Place complex which provides homes for older people in Kilmainham was opened by President Mary Robinson. The complex is named after Willie Bermingham who was the late founder of the charity ALONE. He was present at the turning of the sod on what was then a derelict site a year earlier but died the following week.
A year on, the housing complex is officially opened by President Robinson with family, friends and colleagues of the former Dublin fireman in attendance. At the ceremony, a plaque was unveiled to honour the work of Alone and its founder Willie Bermingham.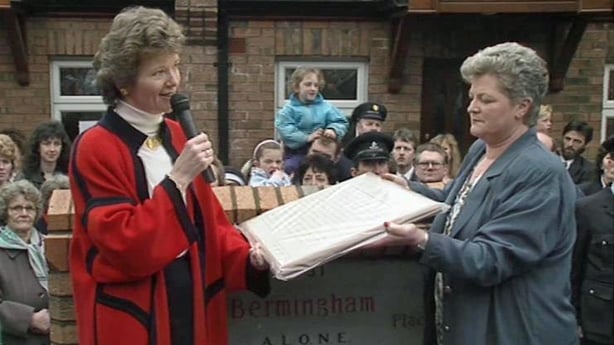 President Mary Robinson and Marie Bermingham (1991)
Speaking at the opening, President Robinson pays tribute to Willie Bermingham and the contribution he made in improving the lives of others.
The extraordinary contribution of one man, Willie Bermingham.
Located on the banks of the River Camac, the 23 units are a mix of one and two bedroom self-contained apartments, which will house between 23 and 25 people in total.
Speaking at the event, Chairperson of Alone Marie Bermingham describes the complex as a fabulous tribute to her late husband.
Everything here is purpose-built for elderly people.
Liam Ó Cuanaigh, an administrator at Alone, says that there is still work to be done on-site before people can move in. He also points to a need to create awareness within the community that encourages people to look out for their neighbours. This was something that Willie Bermingham had done throughout his life and wished for others to carry on. Marie Bermingham is determined to continue this work.
An RTÉ News report broadcast on 21 April 1991. The reporter is Fionnuala Sweeney.