WITH seeking recognition for the work done by women who choose to stay at home rather than go out to work.
Women In The Home (WITH) group was founded in 1982. Although the group is only four years old, there are now members and branches throughout the country.
At the last count, there were approximately 670,000 women in Ireland engaged in full-time home duties. Among these women is Nora Gilligan who established the group Women In The Home.
To counter what we felt was the downgrading of the role of women in the home.
Nora Gilligan says this downgrading came in many forms including being referred to as "non-working" with the emphasis on getting women out of their home. WITH was established to fight for moral and economic supports to allow women to remain in the home. The group believes that women at home are a stabilising influence on the family and on the community as a whole. They are critical of the radical feminist viewpoint who they believe are undermining the role of women in the home. Nora Gilligan is not suggesting that married women should stay at home but that the economic pressures should be taken off women who want to stay at home.
WITH believe that a mother's role in the home is paramount especially in a child's younger years.
Her capacity to influence her children is related to the amount of time she spends with them.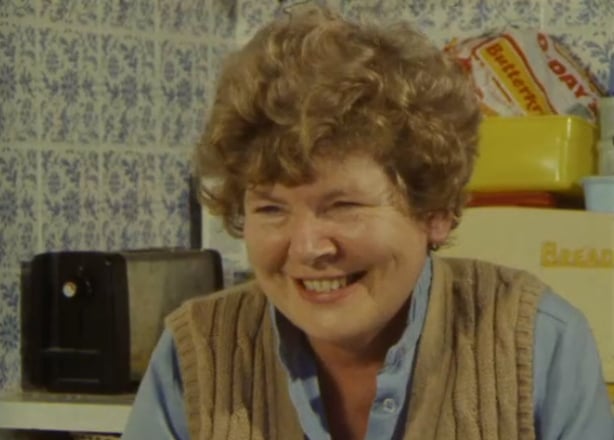 Nora Gilligan, founder of Women In The Home (WITH)
Describing radical feminists as "a destructive force" Nora Gilligan believes they do not recognise the contribution that stay at home women make to society. She believes that it is the woman's right to choose whether to stay at home or go out to work.
Nora Gilligan a mother of four describes herself as a "homemaker" rather than a "housewife". She has now become a voice for women working in the home across Europe as WITH has become part of a European Confederation representing women working in the home. They act as a pressure group to influence policy at an EEC level.
We get absolutely nothing.
An RTÉ News report broadcast on 7 January 1986. The reporter is Colm Connolly.