Moylurg Tower a concrete viewing point in Lough Key Forest park is seen as an architectural blemish by some
A campaign in Roscommon has many locals looking for the removal of what they believe to be an architectural eyesore.
For 25 years, the people of Boyle in County Roscommon have had one stunning example of public architecture gone wrong on their very front doorstep.
Every year, 150,000 people visit Lough Key Forest Park in County Roscommon. However, the 150 foot brutalist Moylurg Tower is considered by many as a blot on this otherwise beautiful landscape. The tower was built in 1971 as a viewing post for the public but is not so popular with locals.
Looks like a block of flats from Dublin. Big, ugly block of flats.
Fergus Ahern, one of the organisers of the Boyle Arts Festival, describes Moylurg Tower as a "monstrosity" and believes that the structure has no artistic value proven by the fact that the artist did not even bother to put their name to it. Fergus Ahern wants the tower to be removed as soon as possible and believes that it is a worthy winner of 'Nationwide's' 'Eyesore of the Week'.
I don't believe it has any value or makes any contribution to the Forest Park whatsoever.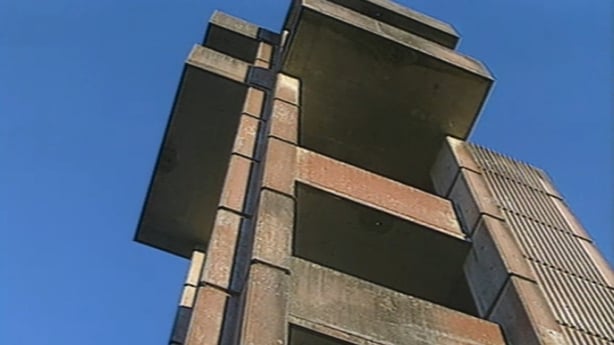 Moylurg Tower, Lough Key Forest Park, County Roscommon (1995)
Boyle Town Commissioner David Carroll supports this view on the tower and says it is regrettable that a decision was made to pull down the old house that once stood on the site and replace it with such a monstrosity.
Owners of the Lough Key Forest Park, Coillte, do not share thel opposition to the tower and have no plans to demolish it. Pat Keane of Coillte defends the decision to construct the tower and believes that it offers visitors a great viewing platform. There are plans for a private consortium to build a hotel development on the site and if this goes ahead, the tower would be removed.
This episode of 'Nationwide' was broadcast on 8 November 1995. The presenter is Michael Ryan and the reporter is Ciaran Mullooley.
Nationwide is an early evening magazine programme that brings Irish viewers an eclectic round-up of news, views and events from around the country. The programme started as a regional news item in the early 1990s. It was presented by Michael Ryan.