A former whiskey distillery chimney is now an observation platform offering wonderful views of Dublin.
In June 1999, a project got underway to transform the malthouse chimney in the old Jameson distillery in Smithfied into an observation platform offering panoramic views over a Dublin.
The distillery chimney dates from 1895 and ceased to be used in the 1970s. It is one of Dublin's tallest structures reaching a height of 60 meters.
By October 1999 the U-shaped glass and stainless steel external lift was in place and a glass viewing platform is to being put into position under the watchful eye of steeplejack Brian Segar. He is well used to working at a great height.
It gets precarious now and again otherwise it's OK.
He is confident the placement of the viewing platform onto the chimney stack will go to plan.
Project developer Terry Devey says as the chimney is a listed building it was considered by some people as a problem but,
It turned into quite an opportunity.
Project architect Andrzej Wejchert welcomes the opportunity to recycle old buildings and give them new uses. He believe the new observation tower will add excitement to the Dublin skyline.
Those involved with the Smithfield redevelopment hope the chimney will become a landmark like Nelson's Pillar was in O'Connell Street, Dublin.
Smithfield resident Frank O'Shea is glad to see the chimney put to good use and marvels at the views from the observation platform.
Pat Delaney and Carmel Keogh were both raised in Smithfield,
The chimney always looked down on us and instilled some discipline into us.
Christopher Delaney is very impressed with the chimney's transformation.
Better than the Pillar altogether, it's me own chimney since childhood.
A 'Nationwide' report broadcast on 2 April 2000. The reporter is Diarmuid Peavoy.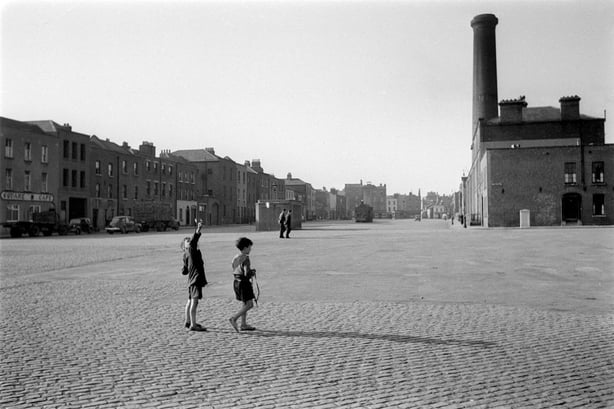 Smithfield, Dublin city, in 1952 or 1953.