Gabrielle Gore Booth talks about the challenge of keeping her family home at Lissadell Estate in Sligo.
Once home to Constance Gore Booth, Countess Markievicz, Lissadell House is now home to her niece Gabrielle Gore Booth. Living in a stately house comes at a price. Rising costs, allegations of mismanagement and legal battles over ownership mean the family is struggling to maintain the house and estate.
A house, once one of the grandest in Ireland, is in sad disrepair.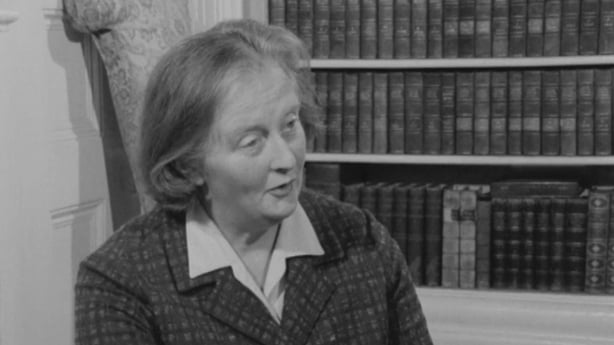 Gabrielle Gore-Booth at Lissadell House (1970)
So costly is it to maintain Lissadell House that the Gore Booth and family live in just a small section. The rest of the building is open to the public for tours which help to fund the maintenance of the house. A visit costs three shillings a head.
The Lissadell estate receives many interesting visitors from the world of the arts, literature and academia. On a tour of the house, visitors can see paintings by Countess Markievicz which line the stairwell, a collection of Mediterranean stones and shells collected by Gabrielle Gore Booth's great grand uncle. Also on display is an old map from the Spanish Armada, a model of her grandfather's yacht used in explorations of the Arctic, her great grandfather's organ, photographs and souvenirs of Countess Markievicz, and many paintings.
While it is very expensive to keep such a big house, Gabrielle Gore Booth believes that the house is of great national interest for anyone with an interest in architecture or art.
This house and this family were a bit of Irish history.
This episode of 'Newsbeat' was broadcast on 5 November 1970. The reporter is Cathal O'Shannon.