'Every Other Day' from Irish band The Stars Of Heaven.
The Stars of Heaven perform 'Every Other Day'.on are currently on 'Anything Goes' The band were on tour with The Host and Light A Big Fire.
They're probably the finest country rock band we have at the moment.
The track 'Every Other Day' appeared on the compilation album 'Weird Weird World of Guru Weirdbrain' on Hotwire Records (1985). The label was founded by Eamon Carr. A different version of the track appeared on the band's 'Speak Slowly' album released on Rough Trade Records in 1988. This was the band's second album for the label following the release of their debut 'Sacred Heart Hotel' in 1986. The track 'Every Other Day' was also recorded for the band's second session for John Peel on the BBC.
The Stars of Heaven are Stephen Ryan on guitar and vocals, Stan Erraught on guitar, Peter O'Sullivan on bass and Bernard Walsh on drums.
Dave Heffernan is joined in the studio by musicians Hank Wangford and Eamon Carr for a discussion on the influence that country music has played on other music genres.
This episode of 'Anything Goes' was broadcast on 2 November 1985. The presenter is Dave Heffernan.
'Anything Goes' was a programme for young people and ran from 1980 to 1986.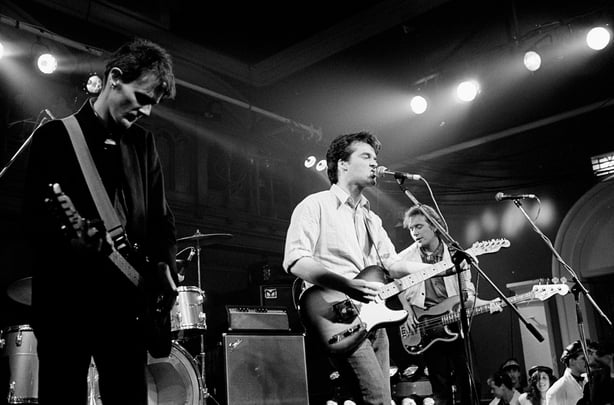 The Stars of Heaven perform during the recording of RTÉ Television's 'Megamix', in Dublin's Cathedral Club in October 1986. Photo by John Rowe.