Mick Foster and Tony Allen talk about their musical partnership and international recognition.
After nine years performing together Foster and Allen are now one of Ireland's most successful musical exports performing,
Traditional Irish music combined with love ballads.
Mick Foster and Tony Allen were previously members of the group The Mary Landers. When that group split, Foster and Allen were formed. and went on to become household names internationally.
Foster and Allen were on the cabaret circuit in 1977. They went on to record one of their most famous hits and a song that they would become synonymous with 'A Bunch of Thyme'.
Every time we brought out a new single, 'A Bunch of Thyme' seem to come back into the charts.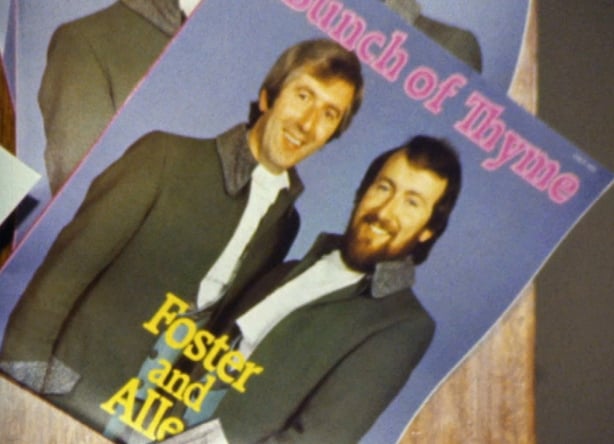 Foster and Allen, Bunch of Thyme
In 1982, they got their big break when 'A Bunch of Thyme' reached number 17 in the British Charts and the duo were asked to appear on Top of the Pops. After this appearance, they went on to perform on programmes like Pebble Mill at One and the Russell Harty Show.
In one of their appearances on British television they wore green eighteenth century clothes. Everyone thought they were dressed as leprechauns. After the stick they received the costumes were not worn again.
They weren't meant to be leprechaun suits.
While music is a career for Foster and Allen, they never set out to sell two and a half million records worldwide and claim that they are simply playing music that they like. In doing so, they have managed to identify a market for their music, particularly among Irish emigrants. While they have travelled the world promoting their music, they say life on the road is not as glamorous as it sounds.
As they tour the world, one country not in their plans right now is South Africa. Controversially, they have played in South Africa before and will not listen to anyone trying to pressure them not to return.
Wherever they perform, each concert is preceded by a card game. This report shows footage from their concert at Cork's Neptune Centre.
An RTÉ News report broadcast on 17 October 1985. The reporter is Andrew Kelly.