Ceol breá bríomhar ó Frankie Gavin agus Alec Finn.
Traditional music in the 'Cúrsaí' studio with Frankie Gavin on fiddle and Alec Finn on bouzouki.
'Cúrsaí' was an Irish-language television magazine programme. It was first broadcast on 14 October 1986 with Neasa Ní Chinnéide and Seán Ó Tuairisg as presenters. It was originally billed in the RTÉ Guide as
Iris-chlár le béim faoi leith ar chúrsaí reatha an lae agus ar chúrsaí na tíre i gcoitinne
But it covered a wide range of topics, including politics, current affairs, arts, and entertainment. 'Cursaí' was broadcast four nights a week, from Tuesday to Friday, on RTÉ 2. It ended on 30 May 1995.
This episode of 'Cúrsaí' was broadcast on 15 March 1988.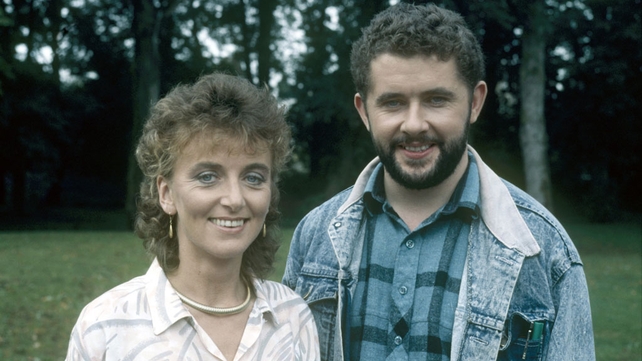 Cúrsaí presenters Áine Ní Ghlinn and Tadhg Mac Dhonnagáin (1987)