An alcohol free club night is proving a great success in Kilkenny.
Every Sunday, hundreds of people gather at the No Name Club in the Newpark Hotel Kilkenny. This is a night with a difference, there is no alcohol.
Cabaret, disco, old-time waltzing but not booze.
The No Name Club specialises in soft drink cocktails with names like The Pussy Foot, The Cinderella, The Bloody Shame, The Pink Panther, The Sweet and Glow.
The club was founded to prove that alcohol was not essential to a night's enjoyment.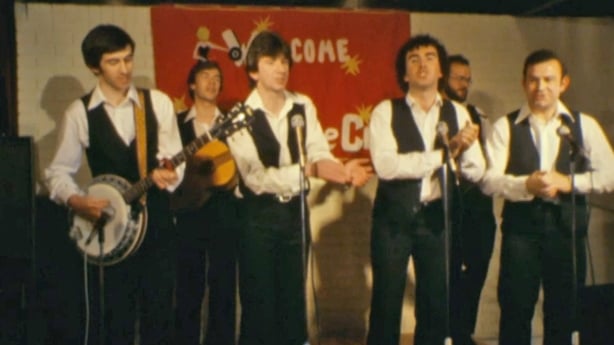 Band performs at the No Name Club in Kilkenny (1980)
Hotel owner, Bobby Kerr describes how the club started.
After listening to a sermon by Father Tommy Murphy on the benefits of abstinence, Bobby Kerr decided to start a non alcohol themed night. He puts the success of the club down to the goodwill of the people of Kilkenny. While the club is non profit, it actually makes money. The club currently offers a choice of 63 non-alcoholic drinks and their target is to have a hundred.
The Sunday night club attracts five or six hundred people each week. The newly built hall holds six hundred and fifty. The club is run by a committee on a voluntary basis.
With a lot of hard voluntary work, plenty of entertainment and the backing of a profit-minded businessman, it's a success.
This episode of 'Ireland's Eye' was broadcast on 15 October 1980. The reporters are Colum Kenny and Michael Ryan.
'Ireland's Eye' was a Tuesday-to-Friday series with human-interest stories and features from locations throughout Ireland. First broadcast on 7 October 1980, the programme ran until August 1983.