Technology and architecture combined at the new state of the art Irish Meteorological Service building in Glasnevin.
The new headquarters of the Irish Meteorological Service was officially opened in Glasnevin by Minister for Transport Albert Reynolds.
A striking building located on Glasnevin Hill on the north side of Dublin, it was designed by architect Liam McCormick. Its unusual pyramid shape facilitates the optimum amount of sunlight for those working inside, with meteorological equipment situated on the roof.
Within the building is contained sophisticated array of computers and modern technology, where data is collected from weather stations around Ireland as well as satellites, enabling meteorologists to create the most reliable weather forecasting charts possible.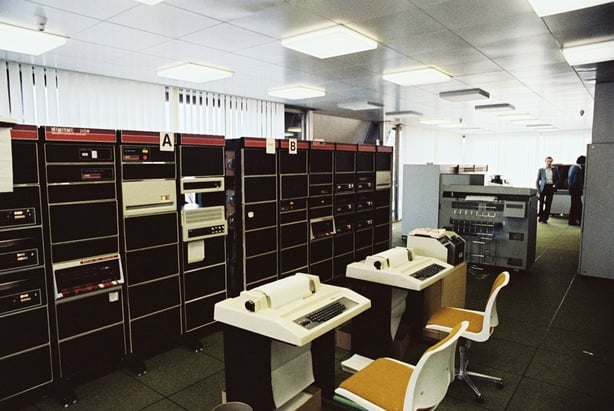 The main computer in the Irish Meteorlogical Service's headquarters (1981)
Ireland's national meteorological service has moved with the times, and as an increasing number of people depend upon it to keep them safe at work.
A really accurate weather forecast service has become even more necessary.
There is no doubt that while the most up to date technology provides accuracy and speeds up the process of compiling a weather forecast the human aspect remains vital, says meteorologist Seamus Miller,
It will always be necessary to...translate them from lines and symbols on paper into what the weather is going to be like.
An RTÉ News report broadcast on 19 June 1980. The reporter is Derek Davis.