Arbour Hill originally built for the detention of military prisoners has been renovated and reopened as a civilian prison.
Ahead of the official opening, members of the media were invited by Minister of Defence Mr Patrick Cooney to take a look behind the walls of Arbour Hill and to have lunch in the prison canteen.
The new prison has modern single cell accommodation and a range of facilities for inmates. The original prison was built between 1845 and 1847 consisted of a cell block in three wings and a separate chapel. The new building addresses criticisms that many prisons are about being "unduly penal".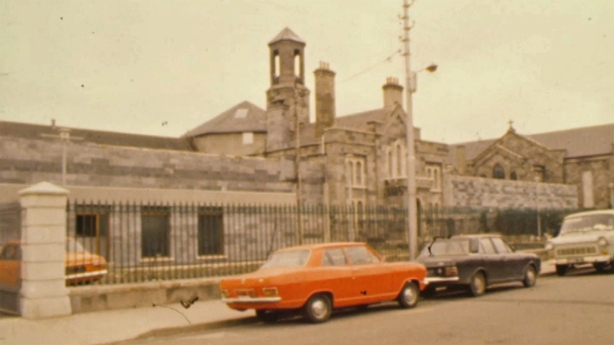 Arbour Hill Civilian Prison (1975)
The visitor's reception area includes a room for mothers with babies and the visiting room is without a grill. The furnishings in the one man cells are comfortable. Cells have beds with foam and rubber mattresses, lockers, pin-up boards and piped radio. The wash facilities include sockets for electric razors. The prison also has gas fired central heating. A large recreation hall can double as a gymnasium.
The bars over the windows are tactfully concealed behind the window frames.

The recreation yard has facilities for basketball, soccer, and other similar games. There is a separate yard for first offenders and another for segregation.
With increasing emphasis on training and rehabilitation of prisoners, there is a print room and a carpentry shop with plans for further educational facilities.
Speaking over lunch, Minister of Defence Patrick Cooney said that the opening of Arbour Hill meant that a wing could be emptied at Mountjoy Jail allowing the opportunity to bring it up to date in stages.
An RTÉ News report broadcast on 12 June 1975.