Exercise, socialising, weight loss and raising money for charity among the motivations for Dundalk ladies preparing for the Women's Mini Marathon.
In Dundalk groups of runners and walkers have been training for the Women's Mini Marathon.
Approximately eighteen hundred women will represent the north-east of the country this Sunday in the Mini Marathon, the culmination of months of preparation.
Joan Brady runs several running groups in Dundalk and firmly believes fresh air and exercise benefits the mind just as much as the body. It is about having time for yourself as well, says one of her trainees,
It's lovely to get out and about, and leave the men at home with the children.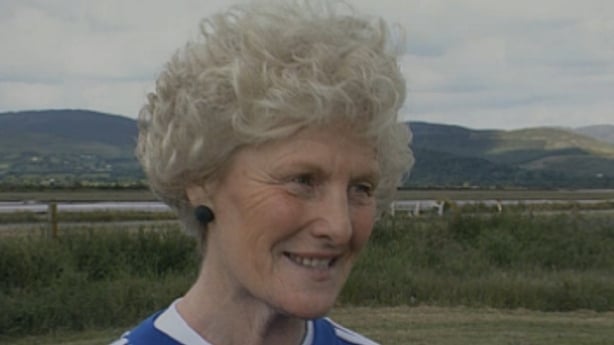 Joan Brady, Dundalk (1995)
Walkers have been permitted to take part in the Women's Mini Marathon for the past ten years, and they have also been training just as hard.
Two ICA (Irish Countrywomen's Association) guilds have joined up to train and raise money for Breast Cancer Research. You are never too old to take part they say, and the social aspect of the event is just as important as the exercise,
It's a sense of achievement, the craic, meeting all different women from all over the country.
The Irish Press Group was to have been the marathon's sponsor this year, but insurance company Church and General have stepped in following the closure of the newspaper.
An RTÉ News report broadcast on 16 June 1995. The reporter is Alasdair Jackson.