Osgur Breatnach and Bernard McNally are free more than a year after being convicted of the robbery of the night mail train at Sallins.
In 1978 the Special Criminal Court convicted Osgur Breatnach and Bernard McNally for the 1976 robbery of the night mail train at Sallins, County Kildare. Seventeen months into their sentences of 12 years and nine years penal servitude respectively, the Court of Criminal Appeal orders their release from Portlaoise Prison.
At the 10 minute hearing at the Four Courts, the Appeal Court president Justice Finlay announced the decision which gave the men their freedom. Both men pleaded not guilty but were convicted by the Special Criminal Court after the longest trial in the history of the state which cost nearly £1,000,000.
Justice Finlay said the statements the men made to An Garda Síochána following their arrest were not legally admissible. Allegations that the two men had been mistreated are denied by Gardaí.
Osgur Breatnach and Bernard McNally walk free from the Four Courts accompanied by their wives Kathleen and Irene.
At a press conference held in the Irish Republican Socialist Party (IRSP) headquarters, it is announced the party will be taking legal advice on the constitutionality of the Special Criminal Court and they will be spearheading a campaign for its abolition.
Osgur Breatnach plans to take a civil action against the state.
An RTÉ News report broadcast on 22 May 1980. The reporter is Tom McCaughren.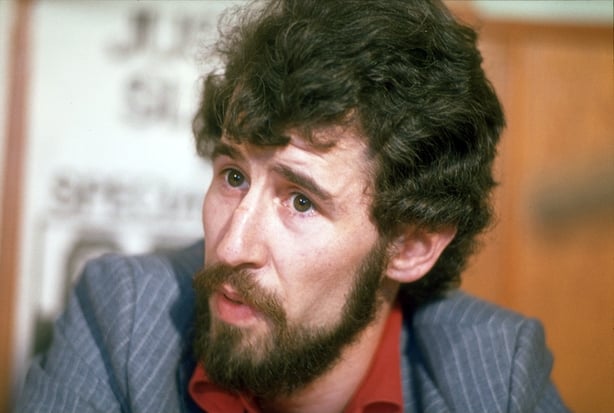 Osgur Breatnach in 1980.