Stephen Fry believes his life has no meaning which is a good reason to live it to the full.
Recorded in the former Dublin home of his idol, Oscar Wilde, Stephen Fry talks to Gay Byrne about his childhood, career, criminal past and drug habit, sexuality and the bi-polar condition that gave rise to depression and two suicide attempts. He also spoke of the loving relationship that has brought him to a much happier state.
A convinced atheist, Stephen Fry believes his life has no more meaning than the universe itself. That is a liberation, not a curse, and all the more reason to live life to the full.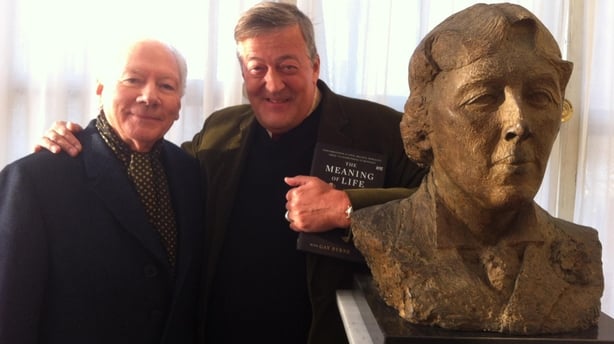 Gay Byrne, Stephen Fry, Bust of Oscar Wilde (2015), The Meaning of Life
The final question Gay Byrne asks each guest is what they would say if they met God at the pearly gates.
Stephen Fry's response is presented here.
How dare you create a world in which there is such misery that is not our fault. It's not right. It's utterly, utterly evil. Why should I respect a capricious, mean-minded, stupid God who creates a world which is so full of injustice and pain? That's what I'd say.
This episode of 'The Meaning of Life with Gay Byrne' was broadcast on 1 February 2015. The presenter is Gay Byrne.
The Meaning of Life was a television programme on RTÉ One in which presenter Gay Byrne interviewed prominent public figures. The programme ran for thirteen series featuring actors, politicians, singers, film directors, comedians, athletes, business people, TV stars, filmmakers, and many more people from all walks of life discussing their views on religion, spirituality and the meaning of life.