The Tallaght Festival Band come to RTÉ for a performance.
Following a performance of Neil Diamond's song 'Cracklin' Rosie' outside the RTÉ television studios, three of the Tallaght Festival Band's newest recruits talk to presenter Andy Ruane.
Deirdre Nugent plays piccolo and is a full member of the band, but Denis has only recently received his instrument, the flugelhorn. He joined after hearing about the band from two of his friends who are members.
Maireád Edwards is learning to play the tenor horn, which she picked over the trombone. Music runs in the family, as her sister plays the trumpet in the band.
I wanted to play a brass instrument.
Bríona is learning the trumpet however, and playing it is much harder than it looks.
New band recruits start off by learning to play the recorder, explains Deirdre. This prepares them for playing a brass instrument, as well as learning to read music.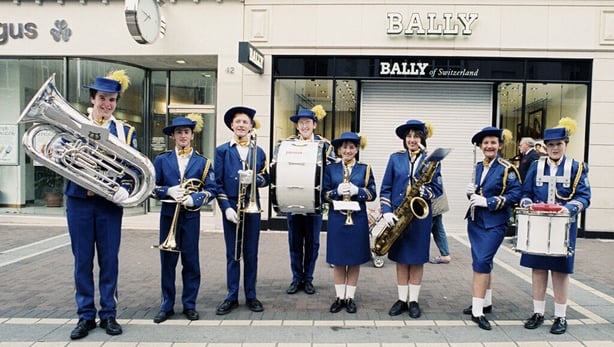 The Tallaght Festival Band, Grafton Street, Dublin (1990)
'Scratch Saturday' was a children's programme which was first broadcast on 23 September 1989 and ran into the nineties. The programme was presented by a team including Mary Kingston, Brian Graham, Brian Reddin, Teresa Smith and Andy Ruane. The programme included music, videos, reviews and issues of interest to young people.
This episode of 'Scratch Saturday' was broadcast on 27 January 1990. The presenter is Andy Ruane.