Galway students choose items that they believe represent Ireland today to be buried in a time capsule.
Sponsored by the Digital Equipment Corporation, which has factories in Galway and Clonmel, the contents of the time capsule are the results of a nationwide competition open to all secondary schools, held to celebrate Galway's 500th anniversary.
The teenagers of Ireland were asked to submit a list of items that would accurately reflect life in the Ireland of 1984.
The winners were the fifth year students of Presentation Convent Galway who came up with a list which includes a copy of the New Ireland Forum report, music by the Eurythmics and Spandau Ballet, a Rubik's cube, reports on the international rules game between Ireland and Australia, a toothbrush, a set of x-rays, and an RTÉ News bulletin.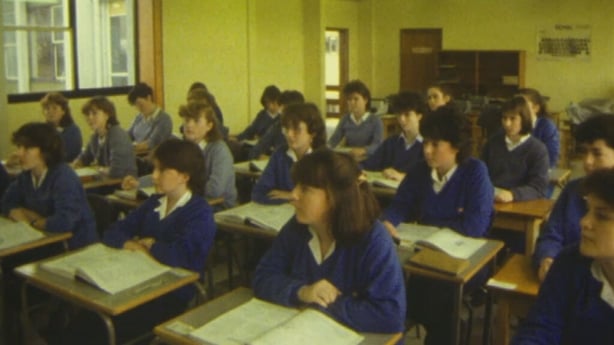 Fifth year students, Presentation Convent Galway (1984)
The capsule will be buried in a concrete tomb in a new park for senior citizens which is being developed in Salthill. The winning school will receive a Digital Rainbow computer.
It won't be reopened until the year 2484, presuming of course that there is anybody around in 500 years time.
An RTÉ News report broadcast on 5 December 1984. The reporter is Des Cahill.