The Importance of Being Earnest is made more relevant for the Leaving Certificate when students produce the play in Galway.
An experimental method of teaching Oscar Wilde's masterpiece 'The Importance of Being Ernest' is taking place with help from three Galway secondary schools and the Druid Theatre Company.
Twenty two students from Coláiste Éinde, Salerno Secondary School and Coláiste Iognáid are all working together for a six week period to stage a production of 'The Importance of Being Ernest'. The idea originated from Peter Casey, an unemployed UCG (University College Galway) Arts graduate and former member of the university's drama society.
Tim Casey's Dramsoc experience is now benefiting these Leaving Certificate students. In contrast to just reading the play and struggling through it, he thought that staging a production of it would open up the script and allow students to understand it better.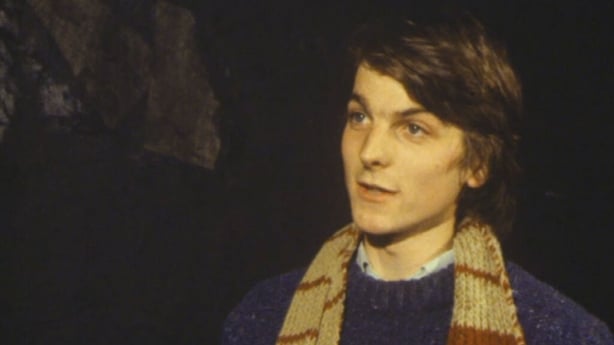 Tim Casey (1984)
And all the additional work related to staging a play production exposes the students to situations in which they will also learn new skills, maintains Tim,
Which is what they're going to have to do when they leave school...and I don't think that sitting around reading the book does that for you.
The cast have also made the sets and costumes, and are also in charge of promoting the play, all done within the confines of a £200 budget. It has given them new insights into what the play is about, which will pay off when they face their Leaving Cert English exams next June, says Tim,
They will be more prepared for the play, because they will know it better...they'll probably shock a few examiners...by coming out with all these new ideas and practical suggestions
The students all agree that the experience of staging the play will stand to them during their exams, as they are so familiar with the plot and the characters, says one young student turned actress,
We know them, like we know a friend or something, it's just fantastic
And the importance of having fun while learning is always a plus.
It's good craic like, doing it.
For one student, learning quotes for use in writing answers to exam questions was done without thinking about it, as it was all done via preparation and rehearsals,
You know it almost backwards, like, acting, you have to know it backwards. Forwards sounds better though.
The week long run begins tomorrow night in the Jesuit Hall, Galway, with further performances in schools across the city, and in County Mayo.
An RTÉ News report broadcast on 5 November 1984. The reporter is Jim Fahy.