An explosion on Saint Stephen's Day causes damage to O'Connell Street Dublin but there are no casualties.
At 4.30 am on the morning of 26 December 1969, a bomb exploded at the Daniel O'Connell Monument on O'Connell Street in Dublin. The blast damaged the statue and windows were blown out of buildings on Dublin's main thoroughfare.
Gardaí, bomb disposal experts and Dublin Fire Brigade inspect the area for damage and any potential threats to public safety. Debris from the explosion is cleared from the street and buildings are boarded up to prevent looting.
An eyewitness to the explosion Mr Smith had just driven past the monument when the bomb went off.
There was this tremendous bang... The whole bridge seemed to shake.
There was superficial damage caused to adjacent buildings with the windows of the Ulster Bank and The Rolling Donut kiosk shattered.
The bomb caused extensive damage to the bronze statue representing the Winged Victory of Courage, one of the figures at the base of the O'Connell monument. Fragments of the figure were blown on to the street.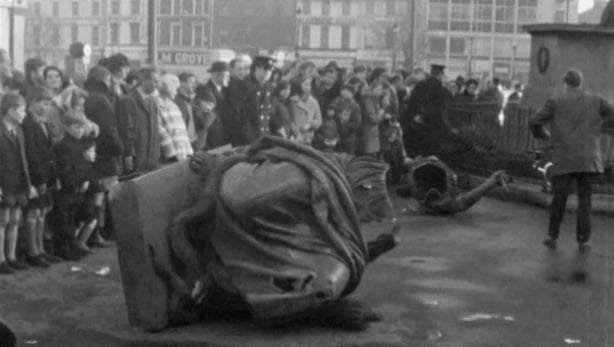 Winged Victory of Courage Statue damaged on O'Connell Street, Dublin
While no individual or organisation claimed responsibility for the bombing, the Ulster Volunteer Force (UVF) has claimed responsibility for recent similar attacks.
The O'Connell Monument was designed by Dublin sculptor John Henry Foley paying tribute to The Liberator Daniel O'Connell. The monument has stood on the site since 1882. At the base of the statue of Daniel O'Connell are four winged victories of fidelity, patriotism, eloquence and courage. The Victory of Courage has now been destroyed.
An RTÉ News report broadcast on 26 December 1969. Some of the footage shown here is mute.