A bomb caused damage to the RTÉ television studio building at Donnybrook but nobody was injured.
In the early hours of the 5 August 1969 a bomb exploded at RTÉ studios Montrose, Donnybrook, Dublin causing damage to the building. Only a skeleton staff were on duty and nobody was injured.
The bomb was planted at the western end of the studios and destroyed the wardrobe department and shattered windows in a large section of the building. Army explosive experts were called in to investigate the cause of the explosion and to find out who planted it.
Tom McCaughren reports on the aftermath of a bomb explosion at RTÉ. The report shows damage to the television studio building, workmen clearing glass and debris.
Percy Christie, General Services Manager comments on the extent of the damage and hopes for completion of restoration work.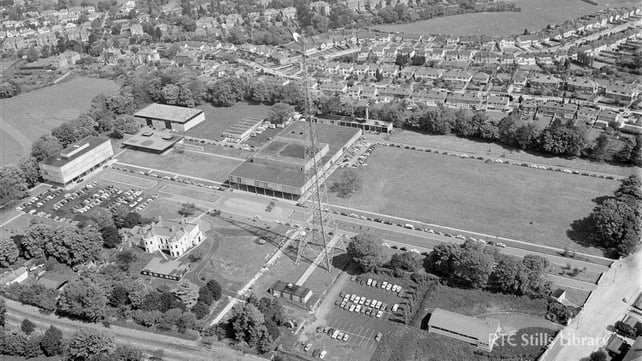 Aerial view of RTÉ Complex (1969)

An RTÉ News report broadcast on 5 August 1969. The reporter is Tom McCaughren.