Dublin was stunned by the accidental bombing of the North Strand by the German Luftwaffe on the Friday night of 31 May 1941.
Alec King, head of the number six Air Raid Precautions (ARP) depot in Ballsbridge gives 'Morning Ireland' an account of that fateful night in which 28 people were killed and 90 were injured.
On learning a bomb had dropped, Headquarters mobilised King and a full squad to North Strand. The Local Defence Force (LDF) had the site blocked off, but King and his men broke through the cordoned off area. Only then could they see the full impact of the bombing on North Strand.
It was just devastated, beds hanging out of the floors, curtains waving in the breeze, pictures wobbling on the walls, the whole front of the buildings gone.
King recalls finding children behind corrugated iron sheets and in the rubble. But he remembers there was great community spirit.
The people in the North Strand were fantastic, there was tea going morning, noon and night, and by the time the night came, the tea you could cut it with a knife, and in those days you know you only had half an ounce of tea and everybody clubbed in.
A Morning Ireland report by Emer Woodfull broadcast on 1 June 1988.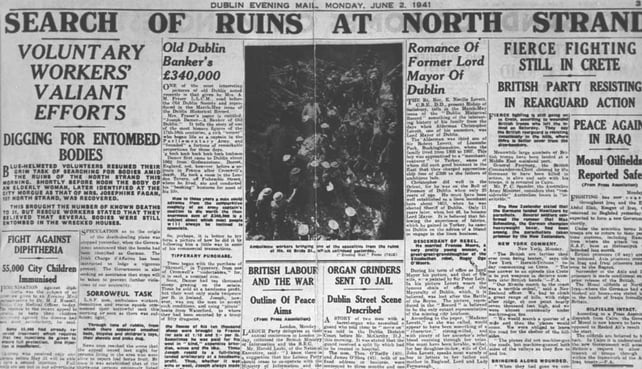 Dublin Evening Mail, 2 June 1941.