Thousands of runners limber up on the streets of Dublin for the 25th City Marathon.
The race, as usual attracting a diverse range of runners.
Over ten thousand competitors have signed up for the event. Organisers estimate that the marathon is worth in excess of twelve million euro to Dublin city.
The race began on Nassau Street with Kenyan athletes setting the pace in the lead field. Lezan Kimutai took pole position in the men's race finishing in a time of 2 hours 13 minutes and 7 seconds. He set a new record coming in over half a minute faster than the previous record set in 1982.
The women's race was won by Russian Yelena Burykina in a time of 2 hours 32 minutes and 53 seconds.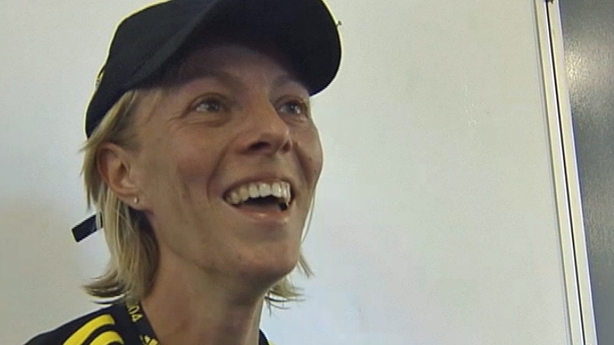 Yelena Burykina
The fastest Irish runners were Garry Crossan and Valerie Vaughan.
Just completing the epic event was an achievement to saviour.
An RTÉ News report broadcast on 25 October 2004. The reporter is Eamon Horan.